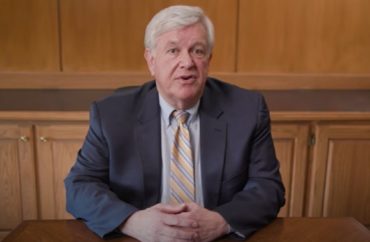 University officials would not provide any further information
There has been no apparent progress made on scheduling a "diversity of thought" forum by University of Michigan officials.
Michigan Medicine Dean Marschall Runge promised a "forum on the importance of the diversity of thought" in light of controversies over a pro-life professor slated to give a speech at the annual White Coat Ceremony. The promise first came six weeks ago.
Professor Kristin Collier did not plan to speak about abortion, but her mere beliefs led to a cancel campaign and a walkout protest during the event which welcomes new med students to the university.
Runge (pictured) wrote in his letter on July 13 that the forum "is being planned by Michigan Medicine, and additional details will be shared soon."
But seven weeks later, there have been no additional details shared with the public or The College Fix.
UM spokesman Rick Fitzgerald told The Fix on August 8 that the school has "nothing to add at this time." He confirmed on August 20 that there was still no updates to share.
Dean Runge did not reply to either of the two emails that requested comment that were sent to him in the past week. The emails asked about information pertaining to the forum, including steps that have been taken to plan and topics that it would cover.
The Fix could not locate any statement or press release issued by the university regarding the event nor find any relevant material on the school's website.
MORE: Check out the Campus Cancel Culture database
The Fix emailed Dr. Collier to ask if she was aware of any progress made on the event, but she did not respond to a request for comment sent in the past week.
Dean Runge rejected cancelation attempts against Collier, explaining in his July 13 letter to the university community that the university "would not revoke a speaker because they have different personal ideas than others."
"The White Coat Ceremony is not a platform for discussion of controversial issues, and Dr. Collier never planned to address a divisive topic as part of her remarks," he wrote. "Our values speak about honoring the critical importance of diversity of personal thought and ideas, which is foundational to academic freedom and excellence."
The University of Michigan's interim president Mary Sue Coleman took an institutional stance in favor of abortion in anticipation of the reversal of Roe v. Wade in the Dobbs v. Jackson decision.
Prior to the official release of the opinion by the Supreme Court, President Coleman established a post-Roe task force and appointed a Planned Parenthood abortionist and UMich professor, Dr. Lisa Harris, to lead the initiative.
Its goal is to ensure that UMich Medicine, which commits abortions, can continue to facilitate those if the Wolverine State bans or restricts the killing of preborn babies.
MORE: Bloomberg believes higher ed is just overflowing with free and open debate
IMAGE: Michigan Medicine/YouTube
Like The College Fix on Facebook / Follow us on Twitter