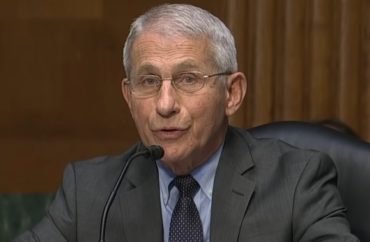 Hundreds of millions flow to researching racism and health
The National Institutes of Health pledged to fund 437 projects and 43 sub-projects examining racism in healthcare a total of $297,282,984 for fiscal year 2022, according to an analysis by The College Fix.
The largest contributing agencies are the National Institute on Minority Health and Health Disparities, the National Institute on Drug Abuse and the National Institute of Mental Health. The biggest recipients were the University of California San Francisco, the University of Minnesota and Emory University. Five-and-a half million dollars flowed from Dr. Anthony Fauci's Institute of Allergy and Infectious Diseases to racism and health research.
The College Fix reached out to each of these organizations but only the mental health agency replied.
"NIH's mission is to seek fundamental knowledge about the nature and behavior of living systems and the application of that knowledge to enhance health, lengthen life, and reduce illness and disability," press team member Anna Mikulak told The Fix via email on November 4. The Fix asked about the importance of studying racism in healthcare.
The Fix ran a report using the NIH database for all money that went to "racism" related projects and analyzed three specific projects regarding the study of racism and age in the American healthcare system. Two are underway at the University of California—San Francisco, while the other is being studied at Boston University Medical Campus.
Dr. Elizabeth Zheng at the University of California San Francisco received $243,000 in fiscal year 2022 to study black Americans and their end of life care from the National Institute on Aging.
"Black Americans are less likely to receive quality end-of-life (EOL) care in part due to racial disparities in goal- concordant care, inadequate pain treatment, and reduced palliative care access, among others," according to the project summary.
MORE: Minnesota professor receives $800K to study 'racialized police violence' and pregnancy
NIH funding for this project began on Sept. 15 and is scheduled to end on June 30, 2023. The study will not be completed until June 30, 2027.
The College Fix reached out to both UC San Francisco and Dr. Zheng for comment. A university official acknowledged the questions and said they would be shared with Zheng, but no further response has been received.
Another project will look at "structural racism" and its effect on dementia and Alzheimer's care for black women.
These diseases "disproportionately affect Black Americans compared to White Americans," according to the grant abstract.
"Structural racism [is] the totality of ways by which society fosters racial discrimination and White supremacy through mutually reinforcing, inequitable systems in housing, education, employment, health care, criminal justice and other domains," the project description explained. This structural racism "may drive the constellation of social risk factors and comorbidities that increase the risk" for these diseases.
It received $799,898 in 2022 from the National Institute on Aging.
The project, set to span from June 1 to Feb. 28, 2027, is headed by Dr. Lynn Rosenberg, an epidemiology professor at Boston University.
The Fix contacted Dr. Rosenberg and asked what the deliverables of the project are.
"We will develop a measure of structural racism that is more comprehensive than most currently in use and test characteristics of this measure against those of several published measures, at the county and state level," she wrote in her email.
"Our new measure will use data on unemployment, poverty, level of education, and incarceration; the data needed for its development will be obtained by linking participants' geocoded addresses from 1995-2021 to appropriate public data sources," she wrote.
Older gay men also face "structural racism" problems, according to researchers at the University of California San Francisco.
Jesus Ramirez-Valles received $844,201 from the National Institute on Aging for his study which will run until June 2026, though the granted amount runs out in June 2023.
"This study will assess the relationships among health, stigma, structural racism and discrimination, resources, and biomarkers of health and aging in older gay men of four racial/ethnic groups—African American, Latinx, Asian American, and White—and across HIV status," according to the grant description.
The Fix contacted Professor Jesus Ramirez-Valles on November 4 but received an error message saying the email was "blocked."
MORE: 'Race Marxism' has infected medical schools and academic, report says
IMAGE: CSPAN
Like The College Fix on Facebook / Follow us on Twitter