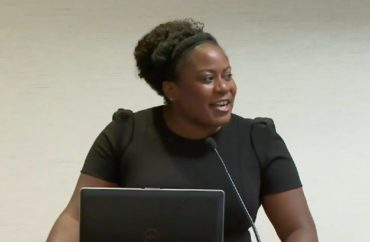 Goal is to 'eliminate inequities in birth outcomes for black women'
University of Minnesota Professor Rachel Hardeman has received $800,000 to study "racialized police violence" and its association with "adverse reproductive health outcomes."
The money came from two separate grants for one project, according to information from the National Institutes of Health database. The research promises to "[center] racism as a fundamental cause of health inequities." Hardeman is also on the board of a regional Planned Parenthood.
The "Community Events and Pathways to Inequities in Birth Outcomes" project has a timeline starting from April 2021 to March 2025. But, the project is only budgeted until March 2022.
"Hardeman plans to announce the results of the research as they become available over the next five years," a university statement said. "The findings will be shared through journal and news articles, conferences, policy briefings and reports, and community presentations."
"The results will be needed by healthcare delivery systems, community organizations, and policy makers to inform efforts for ensuring reproductive health equity," University of Minnesota said.
"The findings will offer a more complete picture of the ways that community trauma, structural racism, individual-level physical and mental health consequences, and population-level disparities affect reproductive health outcomes," Hardeman (pictured) said.
The money is on top of a $4.7 million grant Hardeman and the University of Minnesota received for a new "Center for Chronic Disease Reduction and Equity Promotion Across Minnesota."
That center should not be confused with a separate "Center for Antiracism Research for Health Equity" Hardeman created with the Big Ten university and seed money from insurance company Blue Cross/Blue Shield. These ongoing studies will be conducted through the university's Minnesota Population Center.
Understanding "everyday experiences of Black women" is essential "to developing effective public health strategies that disrupt the pathways from racialized police violence to population health inequity and advance the goal of preventing pregnancy-related complications and reducing maternal and infant death," Hardeman said in a news release.
The College Fix asked for confirmation on if the two grants were for one project and how she would control for correlation versus causation.
"Dr. Hardeman isn't taking this type of interview request at this time," spokesperson Keelia Silvis told The Fix about the taxpayer-funded studies at the public university.
One of her papers says 'racist policing' is linked to preterm births
One paper Professor Hardeman has released said "racist policing practices hurt birthing people and their babies," according to the Big Ten university's news release.
The study found an association between communities that have frequent police contacts and preterm births. Yet its own results show that white and black women had higher preterm births in areas with frequent policing, but black immigrants did not experience the same problems.
Furthermore, the study never identified a woman who had police contact and later had a premature baby. "[W]e did not (and would not have been able to) ascertain whether the pregnant people in our study had personal contact with the police before or during pregnancy," the paper said.
Still it said the results "suggest that racialized police patterns borne from a history of structural racism in the United States may contribute to racial disparity in [preterm births]."
MORE: 'Race Marxism' has infected medical schools,' report says
IMAGE: RachelHardeman.com
Like The College Fix on Facebook / Follow us on Twitter