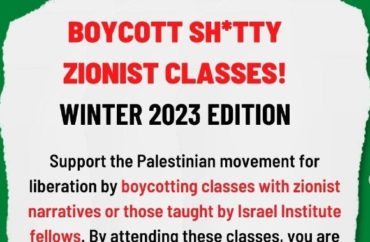 University says a short protest did not disrupt classes
A group of pro-Israel professors want to see the University of Chicago do more quell criticism of a course taught by a former Israeli military leader.
Students for Justice in Palestine protested outside the classroom and also has used social media to call for a boycott of the pro-Israeli course titled "Security, Counter-Terrorism, and Resilience: The Israeli Case" taught by Israeli Defense Forces General Meir Elran.
This has drawn calls for stronger action from the Academic Engagement Network.
"These protests are meant to intimidate," AEN wrote in its recent letter. "Respectful debate and even criticism of a course and its content are welcome, but protests that are designed to demean an instructor and intimidate students are not acceptable."
The university told The College Fix there was one protest on Feb. 2 that the school monitored to ensure it did not disrupt classes.
"The protest did not obstruct access to classrooms, and classes proceeded as scheduled. Protestors also protested for approximately 15 minutes outside of the building," spokesman Gerald McSwiggan told The Fix via email. "Because the protest took place inside an academic building where classes were being held, it required steps to ensure that students could express themselves without disrupting classes."
He said campus safety "was aware of the planned protest and officers were present as is common for protests on campus." Administrators were also present as part of the "deans on call" program run by the university.
The pro-Israel scholars group wants the university to do more.
"We write to affirm our February 2022 statement opposing calls to boycott courses about Israel and Zionism at the University of Chicago and to express our deep concern and dismay regarding the continued campaign to delegitimize such courses," the AEN letter stated.
SJP released its winter 2023 guide to what it calls "sh*tty Zionist classes," and called for boycotts against three courses. The group has put out similar admonitions against classes in the past that it sees as pushing a biased narrative on Israel-Palestinian relations.
AEN wants to see the university "publicly condemn these postings and express support for the courses in question and the faculty members who teach them."
"Such measures would rightly highlight the University of Chicago's commitment to academic freedom, as represented by its offering of a wide variety of viewpoints on contemporary Israel by experts in the field," the pro-Israel group stated. "It is only through such affirmations that campuses can remain places of learning, dialogue, and growth."
The group did not respond to multiple requests for comment from The Fix, sent in the past weeks.
The campus SJP chapter sent The Fix its official statement on why it opposes Elran's class along with a "List of 18 Reasons" it opposes the course.
"Elran's lecture materials pay virtually no attention to the horrific violence that Israel's so called security regime inflicts daily and systematically on the millions of Palestinians Israel occupies," the news release stated. "Elrans' lectures display scant concern, for example, regarding Israel's programmatic theft of Palestinian land, its demolition of Palestinian homes, its collective punishment of Palestinian communities, its biological warfare against Palestinian civilians, or its torture of Palestinian children."
SJP concluded in its response to the The Fix that "[t]he Academic Engagement Network, Meir Elran, Rudy Rochman, Mohmoud Abbas, the Zoa, and the state of Israel can all COUNTER MY A**." Signing off with 'Disrespectfully, SJP Chicago.'"
The pro-Palestine group also sent the photo below.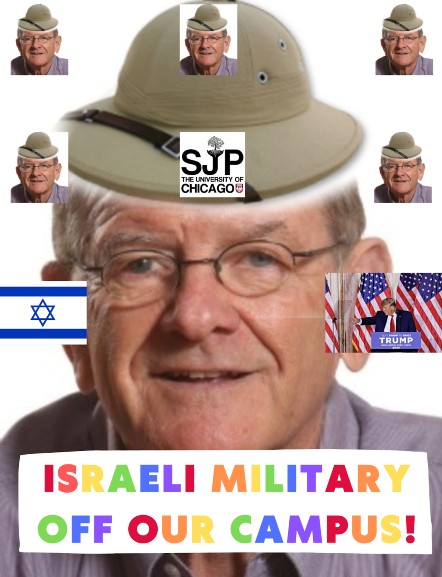 McSwiggan, the university media representative, told The Fix it "defends the freedom of instructors to teach any course that has been developed through our faculty-led curricular processes, and the ability of students to enroll in courses of their choice."
He also said "the University is fundamentally committed to upholding the rights of protesters to express a wide range of views. University policies make it clear that protests cannot disrupt the University's operations or the ability of people in the University to carry out their work."
MORE: 'Only one solution': UMich SJP protest Kamala Harris for Israel support
IMAGE: SJPUChicago/Instagram
Like The College Fix on Facebook / Follow us on Twitter