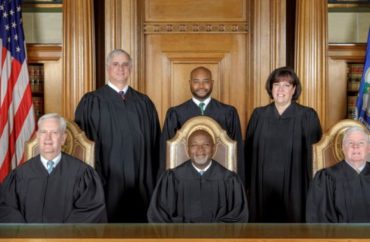 'Khan alleged in his complaint that Doe made false accusations for the sake of trying to expel Khan as part of a larger political movement and personal vendetta'
A former Yale University student who beat back rape accusations can sue his accuser for defamation, the State of Connecticut Supreme Court ruled recently.
Saifullah Khan's lawsuit can proceed after the court ruled on June 27 that the former Yalie, who was expelled, can sue his accuser because the university's sexual assault proceedings did not resemble actual judicial procedures.
The ruling comes after the 2nd U.S. Circuit Court of Appeals asked the Connecticut judiciary to weigh in on Khan's claims and the applicability of the state's "absolute immunity doctrine," which generally protects witnesses and accusers from civil action for statements made during judicial proceedings.
Khan defeated the criminal charges. At the time, juror Diane Urbano told The New York Times that there was "sufficient doubt on every charge," therefore, "we came to the verdict we did," as The College Fix previously reported.
"Khan asserts that, if absolute immunity is afforded to testimony provided in proceedings such as that conducted by the UWC, individuals who are falsely accused will be left with no recourse or protection against malicious and defamatory allegations," the court wrote of the accusations Khan faced in 2018, following "consensual sexual intercourse" in 2016.
As The Fix previously reported:
On Halloween 2015, Khan met up with a female student who had been drinking. The two made their way back to her room, where she testified she passed out, only to allegedly find Khan having intercourse with her when she awoke. Arguing she was too drunk to consent, she said she was surprised to wake up in the morning naked with used condoms on the floor.

Khan said that the woman had taken her own clothes off and initiated sexual activity. In court, his attorneys provided a security camera video of the two walking to the room together, arm-in-arm, which one juror said convinced him that the accuser may not have been as drunk as she later claimed.
The court wrote in its opinion:
Those accused of sexual assault in the higher education context often face life altering and stigmatizing consequences, including suspension or expulsion, criminal referrals, lack or revocation of employment offers, loss of future academic opportunity, and deportation. In the face of these consequences, we must acknowledge that the accused's right to fundamental fairness is no less important than the right of the accuser or the larger community to achieve justice.
The University-Wide Committee on Sexual Misconduct "did not meet the conditions necessary to be considered quasi-judicial. Consequently, Doe is not entitled to absolute immunity."
Khan also won on his argument that his accuser is not entitled to "qualified privilege."
The court opinion stated:
In this case, Khan alleged in his complaint that Doe made false accusations for the sake of trying to expel Khan as part of a larger political movement and personal vendetta. Khan asserts that Doe made romantic advances toward him. He further alleges that, at first, she told a campus health care worker that she had engaged in consensual unprotected sex. Khan contends that Doe reported rape to her friends and, ultimately, to the Title IX coordinator only because she was ashamed of her sexual advances and encouraged by the larger political movement waged against Khan. Specifically, Khan cites in his complaint how, despite a jury's dismissing Doe's allegation and finding Khan not guilty of criminal sexual assault charges, more than 77,000 people signed a petition protesting Khan's readmission to Yale.
"On the basis of these assertions, which must be accepted as true for the purpose of reviewing Doe's motion to dismiss, a reasonable inference could be drawn that Doe knowingly fabricated claims of sexual assault," the justices wrote.
"Khan has alleged sufficient facts in his complaint to defeat Doe's qualified privilege at the motion to dismiss stage," the justices concluded.
MORE: UT-Austin president unilaterally suspended student accused of sexual assault
IMAGE: Jud.CT.Gov
Like The College Fix on Facebook / Follow us on Twitter