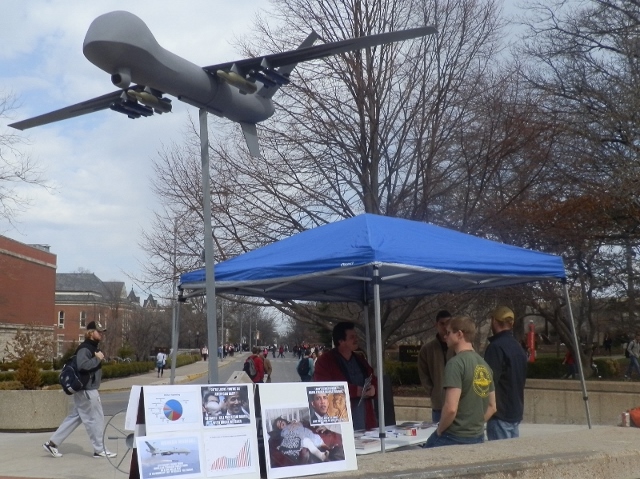 Many college-aged libertarians are sick and tired of war, so to mark the tenth anniversary of the invasion of Iraq this week, they've stepped up efforts to let peers and politicians know how they feel.
The initiative, dubbed "Generation of War" and launched by Young Americans for Liberty, touts the tagline: "We've grown up with war. Now let's end it."
Young Americans for Liberty chapters across the nation will participate in the activism by hosting a variety of protests, observances and other efforts to take a stand against "the endless and costly wars which our government has waged for more than half the time we've been alive," the liberty group's website states.
Some events took place last week, others are slated for this week or early April. The college liberty group has more than 380 chapters nationwide, so the efforts are likely to make some impact.
Several college libertarians told The College Fix the initiative is vital for the country.
"Warfare impoverishes our bodies, our souls, and our wallets," said Joseph Diedrich, a student at the University of Wisconsin-Madison and director of operations of Young Americans for Liberty at UW.
"Aside from the loss of life in battle, the loss of wealth due to war is unparalleled in its ghastliness," he said. "Imagine the grand improvements in our standard of living that could have been achieved in the past decade had our money, steel, and labor not been squandered on drones, missiles, and fighter jets."
He said when America invaded Iraq on March 20, 2003, nearly every American and most congressmen were for it.
"Ten years later, the public wants out," Diedrich said.
On April 8, UW-Madison libertarians plan to host a "Pin the Drone on the Warzone" campus booth, which aims to illustrate "the expansiveness of our intervention across the globe," Diedrich said. They'll also have a "Cost of War" display, "memorializing both the human and economic losses perpetrated by war," he said.
As for other efforts elsewhere, last Thursday the Young Americans for Liberty chapter at the University of Missouri displayed a replica drone on the free-speech area of their campus.
"The MQ-9 Reaper drone replica display is … a visual aid to bring the reality of Obama's drone war home," said Jim Chappelow, vice president of the University of Missouri chapter. "In some parts of the world, deadly drone strikes are a part of everyday life, but most Americans have never even seen one."
The drone replica was loaned to the group through contacts its members have with Veterans for Peace.
"The man we actually got it from, Robert Rast, previously used it to draw attention to the death of his son, Navy Hospitalman Benjamin Rast, who was killed in combat in Afghanistan by friendly fire from a drone airstrike," Chappelow said, adding that his group is not against drones, just how they're being used.
"Drones are just another technology, which can be used for good or evil," he said. "Our concern is that where we see them being used the most is in militaristic aggression abroad and as part of the growing police state here at home."
Missouri group members said reaction to their campus protest was mostly positive.
"We often had students come by to shake our hands and thank us for setting up this kind of display and raising awareness of the issue," said Ethan Robinett, president of the Missouri campus group.
But he added many students weren't aware of drone warfare.
"Of those who hadn't heard about it, they were glad to gain some awareness of the drone war but sad to see the results of it," he said. "(But) nearly everyone that stopped by was glad to see that someone was at least getting the conversation started."
Jennifer Kabbany is associate editor of The College Fix.
IMAGE: Courtesy Photo/Shown is drone replica display at University of Missouri.
CLICK HERE to Like The College Fix on Facebook.