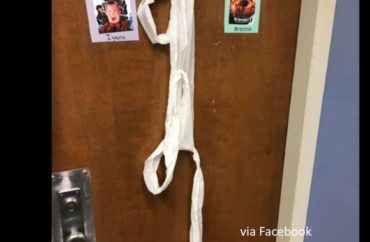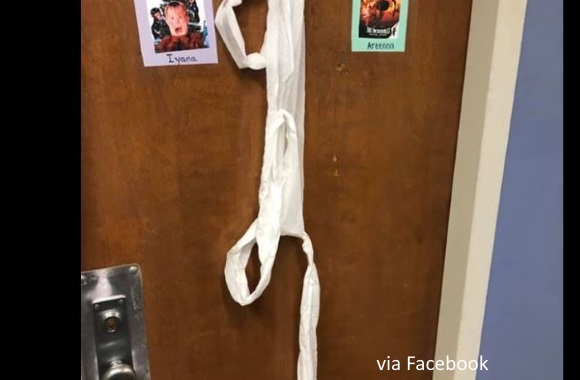 Students still outraged though
An alleged "act of hate" at Michigan State University has since been revealed as a Halloween prank gone wrong.
The culprits came forward and insisted there was absolutely no racial intent whatsoever, it was just a Halloween prank, a decoration that was misinterpreted. The festive vandals have not been identified by campus authorities.
Initially the lengthy crumple of toilet paper with looped ends taped to the dorm room door of two black students was described as a noose.
The image spread through social media, prompting outrage. Then it was denounced as an "act of hate" by the Resident Hall Association president in a tweet.
Dear Spartans,

It saddens me to make an announcement on such poor terms. We at RHA value all of our residents of color. Please read our full statment here. pic.twitter.com/57B93lXBho

— RHA President (@MSU_RHApres) October 20, 2019
WILX Channel 10 reports that a statement put out Monday by university spokesperson Emily Guerrant aimed to put the situation in context:
"Two African American students living on campus in the Brody neighborhood reported a racial incident over the weekend regarding toilet paper that was left on their door which they believed resembled a noose. MSU Police and members of the Residential and Hospitality Services team responded immediately. After initial discussions, other student residents came forward and volunteered that they had taped up decorations in the hall as part of what they referred to as a Halloween prank, which were not meant to offend anyone or denote any racial bias and were not intended to resemble a noose. The impact on members of our campus community is taken seriously and is being investigated in accordance with university policies."
Despite the fact that those responsible have insisted it was just an innocent joke, the campus is in an uproar over the situation. That's because even if the intent of the pranksters was not racist in nature, the effect has led students of color to feel discriminated against.
The MSU Black Student Alliance plans to host a community forum regarding the incident on Tuesday.
Statement on recent events in the residence halls. Black Community, we are here for you. ✊🏾 pic.twitter.com/B9fYTct8l2

— Black Students' Alliance ✊🏾✊🏿 (@msu_BSA) October 21, 2019
"Despite the fact that this object was looped and wrapped strikingly similarly to what would typically be regarded as a noose, and considering the prolonged and traumatic history of lynching Black citizens in the United States, and the fact that it was placed onto the door of two Black women specifically, Michigan State still managed to sum up the entire situation as a 'random Halloween prank,'" BSU said in a statement.
The student government echoed similar sentiments.
A statement from ASMSU in light of recent events. pic.twitter.com/pjO7c7dQFy

— Associated Students of Michigan State University (@ASMSU) October 21, 2019
What's more, the State News campus newspaper reports "MSU Police and the MSU Office of Institutional Equity are continuing to investigate the incident."
MORE: Hoax confirmed — 'Whites Only' sign at UW-Madison was part of protest for 'underrepresented students'
Like The College Fix on Facebook / Follow us on Twitter