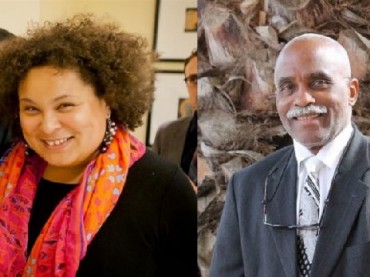 A top UC Santa Barbara administrator's email that alludes to the actions of a feminist studies professor charged with battery against a teenage prolife protestor on campus has prompted controversy, as many have accused the educator's words of slandering pro-lifers and Christians.
Vice-Chancellor of Student Affairs Michael Young's March 19 memo focused on how the campus community should address visiting protestors and defended free speech. It represents the only detailed comment administrators have put out on the incident, which has gained national attention.
On March 4, department of feminist studies professor Mireille Miller-Young, whose research emphasis is black studies, pornography, and sex work, was caught on camera assaulting a 16-year-old prolife demonstrator.
In addressing the matter, Vice-Chancellor Young describes anti-abortion demonstrators, who used graphic images of aborted fetuses to make their point, as "outsiders" and "evangelical types" that can ultimately be "disruptive and has the potential to draw us into the kind of conflict that puts at risk the quality of exchange of ideas that is fundamental to the mission of our university."
"The price of freedom for all to speak is that, at times, everyone will be subjected to speech and expression that we, ourselves, find offensive, hateful, vile, hurtful, provocative, and perhaps even evil," Young wrote. "So be it! Law and policy ban only an extremely narrow band of speech and expression-"yelling 'fire!' in a crowded theatre," for example, and child pornography."
"Our Founding Fathers-all white men of privilege, some even slave owners-got it right when designing the First Amendment of the Constitution."
Although UCSB is a public institution that prides itself on a free speech zone, Young said he views the anti-abortion protesters as a negative reflection to the campus community. 
"And now we are tested once again, outsiders coming into our midst to provoke us, to taunt us and attempt to turn us against one another as they promote personal causes and agendas," he wrote. 
Young said he believes, however, that freedom of speech must be cherished and students must accept it, saying: "The price we pay to speak our own minds is allowing others to speak theirs, regardless of how oppositional their views are to our own."
"While it has not always been easy, time and again UCSB students have demonstrated that they can disagree about the critical issues of our time—fundamentally and passionately but within a framework of humanity and civility, respecting the dignity of those whose views they oppose," he wrote.
Survivors of the Abortion Holocaust, which represents the anti-abortion protestors, denounced Young's statement.
"Using terms like 'evangelical types' he denigrates a group of people for their religious views," the group stated in a news release. "Had he said 'gay types,' 'black types,' or 'Muslim types,' clearly there would be outrage, as there should be," the statement read. "Intolerance must be intolerant of all hate speech."
"Young repeatedly encourages 'civility,' but never mentions the professor's and students' vile conduct."
Several other conservative news outlets voiced similar outrage at Young's response.
"BLAME THE VICTIM: Bureaucrat smears 16-year-old abortion protester battered by UCSB prof," declared a recent headline in The Daily Caller.
And National Review Online, which first reported on Young's memo, noted that "the University of California, Santa Barbara (UCSB), has responded to a professor's violent attack on a 16-year-old pro-life demonstrator — by condemning the demonstration."
Meanwhile, UCSB campus spokesman George Foulsham told The College Fix in an email this week that administrators are reviewing the incident and it is university policy to not comment on personnel matters.
The fate of Professor Miller-Young on both the criminal charges she faces, as well as whether any administrative employment repercussions, remains unclear. She has been charged with misdemeanor theft, vandalism, and battery.
College Fix contributor Austin Yack is a student at UC Santa Barbara.
Like The College Fix on Facebook / Follow us on Twitter
IMAGE: Courtesy NRO