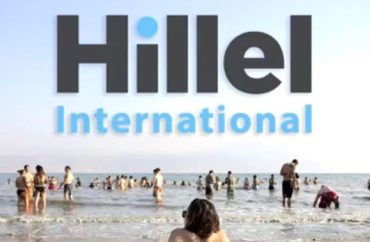 UPDATED
Skeptic says Hillel won't allow 'perfectly reasonable academic debate'
Adelphi University wants to bring a chapter of Hillel to campus, hoping the Jewish student organization will draw in more Jewish applicants and make current Jewish students feel more at home.
But opponents at the private New York university are pushing back, accusing Hillel of shutting down conversations with those who don't support Israel and refusing to collaborate with them.
With a presence on more than 550 college campuses, Hillel is the largest international Jewish campus organization.
Its primary role is to provide a safe Jewish college experience in the hopes that students' Jewish traditions and roots will continue to be an important aspect in their lives after graduation. Those take the form of student-led activities that are social as well as religious and community-oriented.
Hillel already has a presence on nearby Long Island University-Post, where it hosts events including parties, community field trips and prayer services.
Proponents say a Hillel chapter will help provide certain religious services for Jewish students on campus and bring in more sects of Jewish students to Adelphi.
"The interest was expressed from the university to Hillel to see about the possibility of affiliation," Dean of Student Affairs Jeff Kessler told The College Fix last month. "A number of our students have been interested in this actually over a number of years, and we have current students who are interested, particularly in the Jewish Student Union organization."
While Hillel has yet to recognize an Adelphi chapter, the university's student services web page already recognizes Hillel as a campus club.
The international organization's skeptics point to its refusal to "partner with, house, or host" speakers and groups that support the boycott, divestment and sanctions movement and other anti-Israel policies.
"These standards prevent students within Hillel from sponsoring certain events under the Hillel name," Margaret Gray, associate professor of political science at Adelphi and BDS supporter, told The Fix in an email. "This could include a debate about Israeli settlements if one of the speakers supported BDS—even if this were a perfectly reasonable academic debate."
Would help to create a 'unified Jewish community'
An official Hillel presence would be an advantage to Jewish students because it could attract different sects of Jewish students, according to Lauren Klein, who serves as secretary for Adelphi's unrecognized Hillel group.
"There is only one other Jewish group, Chabad, on campus and they are Orthodox, while Hillel is more Conservative," Klein told The Fix. She has been "promoting events to people I think would be interested" but is otherwise not acting frequently in her secretary role.
Conservative Judaism emanates more from the people as opposed to traditional Judaism, which is taken from practices of pious origins. Orthodox Judaism refers to a multitude of branches of Judaism that hold a strict adherence to authentic worshiping.
"I think that Chabad already has a good Jewish presence on campus, but I would be excited to have another organization so they can work together and really start making a difference in the community here," Chabad member Ben Feldman told The Fix. "Hillel can make a big difference" in creating a "unified Jewish community, instead of as separate isolated groups."
As a well-known brand for Jewish students, Hillel would encourage Adelphi students to participate in campus activities, according to Kessler, the dean of student affairs. The international organization has "a very rich background in terms of materials, training that they offer, personnel [and] intellectual property that they can bring to the table."
MORE: Harvard student govt. funds 'Israel Apartheid Week'
Adelphi and Hillel are still in talks on becoming an officially recognized chapter, Kessler said. The group's officials have already met with students, faculty, "various administrators" and chaplains.
The university would also have to "hire staff with the assistance of Hillel" to direct its program on campus, and acquire philanthropic funds, though students would not pay fees to join the campus chapter, Kessler continued.
Adelphi would also need to provide a facility for Hillel, as opposed to the arrangement at other universities, such as New York's Stony Brook, where Hillel uses non-university buildings.
While it's hard to gauge the exact interest in Hillel, Kessler believes that a fair number of Jewish students, both currently at Adelphi and applying to colleges, would be interested. Applicants might be "enticed to apply" because Hillel is a sign of "vibrant Jewish student life" on campus.
Kessler echoed Feldman, the Chabad student member, in saying the campus could use another Jewish student organization. Its pursuit of a "diverse and inclusive" campus is the "prime motivator behind this move, to engage Hillel as a partner with us," the dean said.
'It is a matter of open dialogue and speech on campus'
Hillel has been involved in many campus controversies because of its attitude toward BDS and other attempts to delegitimize or apply double standards to Israel.
For example, last year some faculty members at the University of British Columbia pressured a student association to cancel an event in a Hillel-owned building because the Jewish organization is "controversial" and "political," The Canadian Jewish News reported.
Hillel's rules prevent it from collaborating with pro-BDS and associated groups on charitable events for causes such as Take Back the Night, the nonprofit dedicated to ending sexual violence, according to Gray, the Adelphi professor and Hillel skeptic.
Though Gray told The Fix she sees BDS "in the same spirit as the divestment campaign from South Africa during apartheid," she emphasized that she was "not questioning Hillel's political positions, nor Hillel's right to hold such positions":
I am concerned about a student organization that prevents dialogue, debate, and varied perspectives. This is not a question of agreeing or disagreeing with Hillel's stances; rather it is a matter of open dialogue and speech on campus.
Robert Siegfried, a computer science professor, disagreed that Hillel's work was "controversial" in any way.
"Hillel is basically a cultural, religious, and understandably a pro-Zionist organization," he told The Fix in a phone call. "In that regard, it looks to encourage students who are interested in doing so in celebrating Jewish holidays and the Jewish faith." (Kessler recommended the two professors to The Fix for interviews.)
MORE: Liberal politicians fail to block anti-Israel conference at UCLA
Kessler said Adelphi is planning to open a community forum through face-to-face meetings on campus this fall for discussion of Hillel's potential arrival, so all sides have a chance to weigh in.
"We realized that … we need to involve those people who have an interest or have an opinion about it on the faculty, staff and students' side," said Kessler. The university does not want "anyone [to] think that we're trying to make a decision too rapidly that isn't right for our community here."
But he dismissed the idea that Hillel should be held to a different standard than any other organization whose policies reflects its mission. "Hillel International is clearly a pro-Israel organization" and there's nothing wrong with that, Kessler said.
He said some faculty had shared concerns with him about Hillel in person and via email: "In addition, I met with the Faculty Senate Executive Committee on the subject." Kessler said the concerns didn't come from students.
To gauge student views of Hillel's possible arrival at Adelphi, the authors of this article conducted a survey last month with 54 student passers-by. They were given a brief summary of both sides' views and asked for their stance. More than half weren't aware enough of Hillel to form an opinion, but more than a third supported Hillel (below).
"I'm ambivalent," said Tommy Dayton, a computer science student. "If people are really offended, I'll protest it as well. But if people don't care, I'm fine with it." Biology student Keith McManus said he was not "informed enough to form my own opinion."
A student who asked to remain anonymous said "it would be better if [Hillel] engaged in conversation" with those who disagree with it about Israel.
Kessler said the university will act only when there's a consensus between faculty, students and administration.
"That's the reason why we are looking to just slow it down a little bit, so we make sure we get the input from all parties," he said.
Hillel International did not respond to multiple emails and calls from The Fix.
Ryan Serchuk contributed reporting.
CORRECTION: Because of a misunderstanding over the word "forum," The Fix incorrectly reported the format of the university's fall forum on Hillel's potential arrival. It has been fixed following clarification from Dean Kessler, who also elaborated on his discussions with faculty about Hillel. Those comments have been added as well.
MORE: Stanford pro-Palestine group vandalizes flyers with anti-Semitic cartoons
IMAGE: Hillel International/YouTube
Like The College Fix on Facebook / Follow us on Twitter