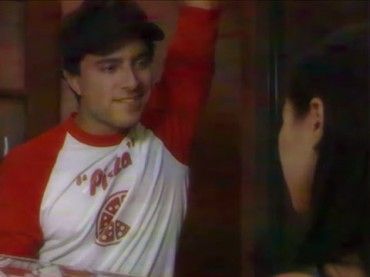 If you're confused how to get and maintain "affirmative consent" for sexual relations under California's new law, don't worry – some activists for affirmative consent don't appear to get it either.
A new video tutorial that resembles "retro pornography," by the "anti-sexism" group UltraViolet (not to be confused with the movie cyberlocker technology), aims to educate students on how to ask for sex the right way, as described by Inside Higher Ed:
In the purposefully grainy clip, a college-aged pizza delivery boy brings an unwanted pizza to a young woman's apartment. When the man apologizes for his mistake and refuses to force the pizza on her, she finds his seeking of consent sexy and one consensual act leads to another. The latter half of the video features a similar scenario between two college-aged men at a laundromat. The video features "two couples exploring 'yes means yes' sex and consent," the group stated.
The problem is, the pizza delivery boy was legally assaulted under California's new law, the Foundation for Individual Rights in Education says:
After Pizza Guy expresses regret at apparently having brought the pizza to the wrong room, Student is so overcome with emotion at his consideration that she grabs him by the shoulders and kisses him. Only then does she ask, "Is this okay?" But under California's new law, she's already committed sexual assault. She is unambiguously the initiator of this contact. She did not obtain consent before kissing him. He didn't have time to resist or to protest, but of course, even if he did, the law states unequivocally that "[l]ack of protest or resistance does not mean consent."
The same thing happens in the laundromat scene, FIRE says:
They consent to kissing, but after a few seconds Smiley removes Serious's shirt and pushes him back against the dryers, touching his head, neck, and chest. He didn't ask permission to do any of those things. Consenting to kissing does not mean that you have consented to being disrobed by your partner; per the law, consent has to be ongoing.
Read the full Inside Higher Ed article here, and FIRE's analysis of the consent video here. Watch the consent video, and another showing a man calling his parents from jail after being arrested for rape, at the new website End Campus Rape.
Like The College Fix on Facebook / Follow us on Twitter
IMAGE: UltraViolet screenshot