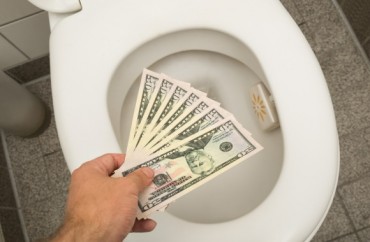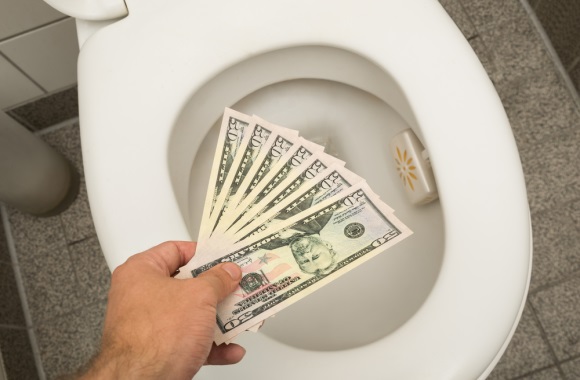 Costs $25 to make, sold for $150 to students who have no choice
Textbook prices have been skyrocketing over the past several years, and a trio of publishers plans to keep it that way.
Cengage, McGraw-Hill and Pearson Education are taking aim at a textbook distributor that refused to adopt their "best practices" to stop the sale of counterfeits, but the bigger victims may be students who have to look harder to find affordable textbooks.
The publishers devised a set of anti-counterfeiting principles a few months ago and got distributors Ingram and Chegg to adopt them.
In spite of their website's claim that distributors are "encouraged" to adopt the practices, the publishers sued Follett – which operates college bookstores across the country – for copyright and trademark violations when negotiations broke down.
MORE: Math prof in trouble for not using pricey textbook
The lawsuit is the latest volley in publishers' yearslong fight against low-cost textbooks, whose popularity with customers is driven by the staggering markups on new editions, an economist told The College Fix.
Publishers are not just battling counterfeits, either, but also authorized textbooks that are sold more cheaply in foreign markets.
The issue even went to the U.S. Supreme Court, which delivered a blow to publishers by saying they couldn't stop the sale of textbooks after their "first sale."
Students harmed by 'poorer quality materials'
The lawsuit says Follett and its subsidiaries "refuse to conduct due diligence on their suppliers and fuel the counterfeit market by relying on the process of buying and inspecting counterfeits instead of not buying them in the first place."
The publishers have acquired many counterfeit textbooks from Follett locations and digital storefronts in sting purchases, according to the suit. Follett has also refused to institute a "basic verification process" to weed out counterfeiters who sell the company large quantities of books in "buyback" programs, they said.
The suit makes clear that the publishers' loss of business from Follett is a substantial motivating factor.
"As Defendants have increased their purchasing of textbooks from unreliable and unverified third-party sources that provide counterfeits, they have decreased their purchasing from Plaintiffs."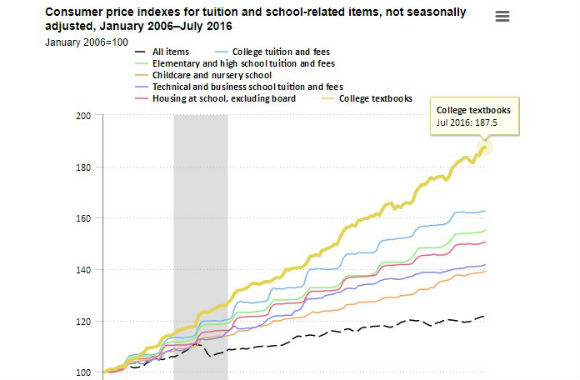 MORE: Colleges give students a better deal outside student-loan system
Cengage separately portrayed its effort as protecting students from "poorer quality materials" and said counterfeiters were "enrich[ing] themselves at the expense of students" by laundering materials through Follett.
Ingram Chairman John Ingram also portrayed his company's agreement with the publishers as intended to "ensure that students and educators receive quality, legitimate textbooks."
In a statement responding to the suit, Follett said it has multiple procedures in place to combat counterfeiting and that publishers' demands would harm the market for affordable textbooks.
The Fix contacted several officials for the textbook publishers and Follett for comment, but none replied.
'Pure monopoly,' required by professors
Ohio University's Richard Vedder, an emeritus professor of economics,  told The Fix in a phone interview he wasn't surprised by the lawsuit, given that textbook publishers have a "pure monopoly" in a market that's highly profitable.
The prices of "textbooks have risen dramatically in the past few years, because companies know these materials are required by their professors," said Vedder, director of the Center for College Affordability and Productivity. Selling materials that may be pirated "is a defense to cope with rising prices that can cost students up to a thousand dollars per year."
He said there's no market-based reason for prices to skyrocket: "The production value of an elaborate textbook is usually no more than $25," and the average textbook cost around $150.
A 2014 survey of college students by U.S. PIRG and its student affiliates found nearly half said the cost of textbooks "impacted how many/which classes they took each semester," possibly slowing down their timeframe for degree completion. Sixty-five percent said they did not buy an assigned textbook "because it was too expensive."
MORE: Richard Vedder says higher ed bubble starting to burst
Make your students buy your own textbook
Textbook publishers also incentivize and persuade professors to use their textbooks. George Washington University Prof. Henry Farrell described his experience with the "racket" of the textbook industry in a 2015 blog post.
Publishing representatives press him for personal meetings to show off their new wares, and send him free textbooks every summer in the hope he'll assign them, Farrell said. Sometimes they ask if he'd like to write a textbook himself – profiting from the captive market of his own students. He did not respond to a request for comment.
In addition to persuading professors to require their new editions, publishers tried to choke off the domestic sale of books intended for foreign markets in a failed legal effort several years ago.
Cornell University student Supap Kirtsaeng took advantage of the much cheaper prices on English-language textbooks in his native Thailand, importing and reselling them in the U.S., where they were still more affordable than U.S. editions.
John Wiley & Sons sued him for copyright infringement and unauthorized importation, but the Supreme Court ruled his sale of the imported books was protected by the first-sale doctrine, since he had lawfully obtained them in Thailand.
MORE: College textbook prices up 1,000 percent over 40 years
MORE: Improve terrible student-loan system with private investors
Like The College Fix on Facebook / Follow us on Twitter
IMAGES: Shutterstock, Bureau of Labor Statistics
Like The College Fix on Facebook / Follow us on Twitter