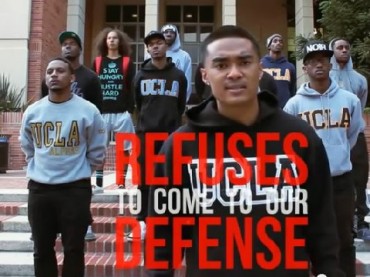 In one of the more melodramatic, accusatory and ideological resignation letters I've seen, the president of UCLA's undergraduate student government stepped down on Friday, accusing the school of being hostile to people of color and insinuating it doesn't help those with mental health problems – possibly himself.
The Daily Bruin broke the news that Devin Murphy, a self-identified "Afro-Cuban Queer male," was stepping down just six months after taking the reins of the Undergraduate Students Association Council.
Murphy posted a long Facebook screed explaining why he's stepping down, and then had the temerity to leave the podium before taking questions:
Firstly, this institution and all others like it around the country were not made for people like me. As an Afro-Cuban Queer male, the toll that the stresses of this campus has had on my mental, physical, and emotional health is nothing any student should ever have to go through – but this is unfortunately something with which many students of color deal. My advocacy for the betterment of our policies and conversations dealing with mental health has been rooted in a deeply personal experience with my own inner-self. UCLA needs to do more to address the climate for students of color on campus. Otherwise, it continues to applaud the tradition that this institution was not made for students of color, students like myself.
Then there's the standard explanation that the job is consuming too much of his time and energies, depriving friends and studies of adequate attention. Murphy refers to his "ancestors" four times in the letter.
He then gives a shout-out to some organizations he's worked with, such as the "progressive" candidate slate known as LET'S ACT! and the Afrikan Student Union:
We should never stop the work that our ancestors and communities have started as it is for us to continue and win the concrete victories. Divestment is inevitable. Justice and freedom has never been granted by appeasing the oppressor. As students, we have a moral responsibility to ensure that our tuition is not funding the oppression of Palestinians, let alone any historically underrepresented communities. … Continue the needed advocacy on campus that builds a movement around divestment, against fee increases, surrounding mental health, and dismantling the school-to-prison pipeline. Social justice issues are student issues, so do not let the privileges of others define the activism that is extremely needed on- and off-campus.
And finally, he tells the undergrad student body: "May you always remember that those that come from underrepresented and under-resourced communities are the ones that need you the most."
Murphy's divestment reference concerns a vote on a boycott, divestment and sanctions resolution against Israel that's scheduled for Tuesday in the undergrad student government – and attendance has been restricted, Legal Insurrection said.
Like The College Fix on Facebook / Follow us on Twitter
Like The College Fix on Facebook / Follow us on Twitter