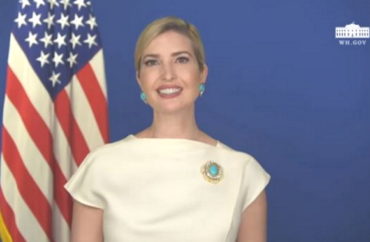 Overcoming challenges through perseverance. Personal growth during difficult seasons in life. Finding the silver lining, even in dark times.
These are the themes and lessons that 2020 grads from Wichita State University's Campus of Applied Sciences and Technology were blocked from hearing after administrators canceled Ivanka Trump's planned graduation speech.
WSU Tech's president explained in a memo that the reason she canceled airing the previously recorded speech, part of the school's June 6 virtual commencement ceremony, was due to "the social justice issues brought forth by George Floyd's death."
Protests and riots have been sparked across the nation after Floyd, a black man, was killed by a white police officer in Minneapolis in May.
"The college stands with those who fight injustice and advocate for social equity, and we're profoundly proud of the diversity and social change being brought forth by our students, alumni, faculty, and staff," stated WSU Tech President Sheree Utash in her memo.
In response, Ivanka Trump posted her speech online, and called out cancel culture while doing so.
"Here is the message I recorded on May 18th for the Graduates of WSU-Tech. I know that all of these talented graduates will dream big and aspire to make the world a better place!" tweeted Trump, a senior advisor to President Donald Trump.
"Our nation's campuses should be bastions of free speech. Cancel culture and viewpoint discrimination are antithetical to academia," she added. "Listening to one another is important now more than ever!"
Our nation's campuses should be bastions of free speech. Cancel culture and viewpoint discrimination are antithetical to academia.

Listening to one another is important now more than ever!https://t.co/VW6W8TIL9c

— Ivanka Trump (@IvankaTrump) June 5, 2020
MORE: Conservative grad shares her story: 'I've spent the last four years defending myself'
IMAGE: screenshot
Like The College Fix on Facebook / Follow us on Twitter