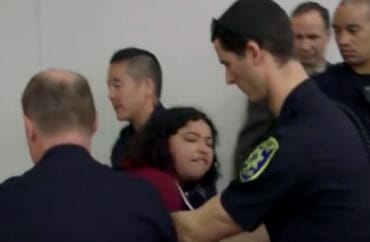 13 pages of redundant emails
The Foundation for Individual Rights in Education filed a public records request with UCLA more than a year ago for records "related to a campus speaking appearance" by Steven Mnuchin, U.S. treasury secretary.
You may remember the incident because Mnuchin's appearance was marred by disruptive student-led protests.
UCLA repeatedly delayed providing records in clear violation of the law, which gives it a maximum of 24 days to turn over records, so FIRE got fed up and went to court last month. Now, the taxpayer-funded institution has grudgingly turned over 13 pages of frequently redundant emails.
These records aren't explosive on their own, as noted by FIRE's director of litigation, Marieke Tuthill Beck-Coon, in a blog post Monday. The emails between staff in the UCLA's Burkle Center lead to a "mildly embarrassing inference that Mnuchin's office either didn't realize or sort-of forgot that Treasury staff agreed in discussions prior to the event to its being taped and publicly posted."
FIRE only requested the records because of reporting that Mnuchin tried to revoke his permission for the event, including the student-led disruptions, to be posted for the public to see. The Treasury secretary eventually relented, and the full event was posted.
MORE: UCLA students hissed, heckled Mnuchin at UCLA
The bigger story is UCLA's willful violation of public records law for more than a year, in response to a request for such mild records, Tuthill Beck-Coon writes:
The Public Records Act requires agencies to make records "promptly available" precisely because the public deserves to have timely access to information, which means journalists and watchdogs like FIRE should be able to access records while recent events are still recent. But because UCLA failed to search for and review 13 pages of documents for over a year, a mildly embarrassing campus appearance by a cabinet official is now the subject of a lawsuit and a public letter of complaint to the University of California Board of Regents from the Society of Professional Journalists, which requested the same documents.
Read the post and UCLA's 13 pages of redundant emails.
MORE: UCLA refuses to tell conservative professor why it fired him
IMAGE: YouTube screenshot
Like The College Fix on Facebook / Follow us on Twitter