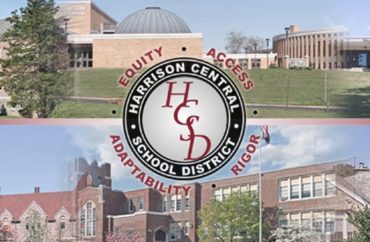 UPDATED
One of its excuses: only 'inclusive' clubs allowed
Luke Wong finally got what he wanted: a Young Americans for Freedom chapter at his New York high school.
All it took was nearly two years of being rebuffed repeatedly by administrators, who finally caved several months after the junior secured legal help from the Alliance Defending Freedom.
The public interest litigation firm said Wednesday that Harrison Central School District has recognized the YAF chapter, as reflected on the high school club directory. As a result, it's guaranteed "equal access to resources and the ability to recruit new members."
Wong (left) said administrators gave him a different excuse every time he applied to start the club, going back to April 2019, at one point saying the school doesn't recognize clubs with external affiliation – which is false. They also suggested he instead join the Model Congress, which does not have a conservative mission like YAF. Their actions suggested viewpoint discrimination, in the eyes of the legal group.
The alliance threatened to sue the district in June, claiming the continual rejections were unconstitutional and violated the federal Equal Access Act.
It said the "COVID-19 situation delayed the school's response multiple times," but now the district has "certified the club's faculty advisor, and acknowledged the club's official status."
Unusually for the alliance, it did not post official correspondence from a relevant school official confirming club recognition and the date. A spokesperson told The College Fix Thursday that "the final obstacle in recognition was resolved Dec. 16 and YAF was posted on the [club directory] website Jan. 11."
Alliance counsel Caleb Dalton said public school officials "can't refuse to recognize a student organization for arbitrary reasons, especially when they have approved a whole host of other clubs formed around civic, political, and social interests." The school already recognized nearly three dozen "non-curricular social and civic clubs"  – the same category as YAF – including a Gay-Straight Alliance.
The national YAF organization said Wednesday that Wong's chapter plans to hold its first meeting Jan. 19. "Luke Wong and the Harrison HS chapter are a great reminder why students should PERSIST for freedom–and ensure their school upholds students' constitutional right to freedom of speech," the organization said.
It also posted correspondence to Wong and his parents from unidentified administrators, who said a YAF chapter would duplicate non-conservative clubs because of its "political" identity. They also supposedly frowned on recognizing clubs that hold a "single viewpoint" instead of being "inclusive," and encouraged him to instead write a letter to the editor expressing his views.
As recently as this fall, an administrator told Wong "we will not be moving forward" with his YAF application.
Neither the alliance nor YAF specify whether the district also agreed to their demand to impose viewpoint-neutral policies.
Read the alliance announcement and YAF statement.
UPDATE: A spokesperson for the alliance answered a Fix query after this article was published. It has been incorporated.
MORE: Alliance threatens to sue Harrison for repeatedly denying YAF chapter
IMAGES: Harrison Schools- NY/Twitter, Luke Wong/LinkedIn
Like The College Fix on Facebook / Follow us on Twitter