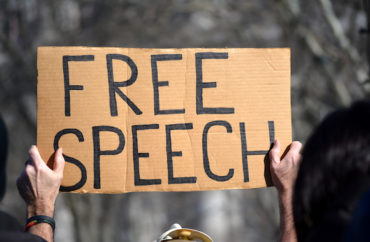 School hopes to have revisions done before fall semester
After receiving a poor grade from a campus watchdog group for its overreaching speech policies, a public university is revising those rules to ensure student free speech is protected on campus.
In September, the Foundation for Individual Rights in Education highlighted McNeese University for its "Speech Code of the Month" feature. The group said that the university's code of conduct contained broad and poorly defined restrictions on protected speech.
FIRE awarded the school a "Red Light" rating based in part on its Equity and Inclusion Policy. "Red Light" ratings are given to universities that have "at least one policy that both clearly and substantially restricts freedom of speech," according the group's criteria. McNeese's policy currently prohibits "sexually derogatory" language on campus, which FIRE says is too vague and can lead to unjust censorship.
Chris Thomas, McNeese's vice president of student affairs, spoke to The College Fix via phone about the school's speech codes. Thomas said the school is actively revising its speech policies according to FIRE's recommendations.
"Many of the recommended changes we have agreed to put into place. We're well on our way to being one of the first Green Light campuses in Louisiana. I just have to get it over the finish line," Thomas said.
Laura Beltz, FIRE's senior programs officer, said the school has been in touch with the watchdog group to discuss altering its speech codes.
"After we chose McNeese's Equity and Inclusion policy as our September 2018 Speech Code of the Month, the university administration responded by asking for recommendations regarding that policy and the rest of the policies flagged on McNeese's Spotlight entry," Beltz told The College Fix.
"FIRE was encouraged by this response, and is hopeful that resulting revisions will better protect McNeese students' free speech," she added.
On its website, FIRE writes that while words considered "sexually derogatory" can be part of "a pattern of conduct that meets the Supreme Court's standard for student-on-student (or peer) hostile environment harassment," such language is usually constitutionally protected.
FIRE gives speech code ratings to both individual policies and schools as a whole. McNeese University has received a "Red Light" rating from FIRE every year since the group began its rating system in 2009. The school was also written up for its "Anti-Bullying Policy," which defines bullying as causing an individual to experience "reasonable fear" that he or she will suffer "unauthorized social exclusion," among other things.
Thomas expressed support for robust free speech protections, stating that political disagreements should not be grounds for professors to reprimand students. "The fact that we disagree doesn't enable me to punish you. In fact, that's what we shouldn't be doing. We should be talking," he said.
He also clarified that if a McNeese student was reprimanded for violating a speech or conduct policy, "the student would always have the right to appeal that to a committee of students and faculty and staff. ..there is always due process, which I think is important."
Thomas told The Fix that he expects McNeese's revised policies to be completed "in May or June" after the academic year is over.
MORE: Nine out of 10 universities restrict free speech, survey finds
MORE: School working with free-speech group to improve its 'unjustified' speech rating
IMAGE: Christopher Penler / Shutterstock.com
Like The College Fix on Facebook / Follow us on Twitter