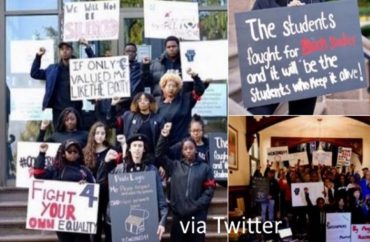 Professor denies incident, calls demonstrators 'hostile mob'
A rowdy group of Seton Hall University students of color have been protesting oppression on campus for more than a week — and the raucous demonstrations came to a head Monday when some sort of altercation took place between the group and a professor there.
The student protesters, calling themselves Concerned 44, have marched through the campus and chanted their concerns and demands for the last week, including in the library, in the quad, and elsewhere, saying "if we don't get it, shut it down." They also slept in the Presidents Hall.
On Tuesday afternoon, university administrators sent out a notice that they had agreed to all five of the protesters' demands after things got overheated at the private, Catholic, New Jersey institution.
The incident between the professor and the protesters occurred when they apparently attempted to enter the faculty lounge Monday. The professor said he sought to halt their progress when contact was made, he told The College Fix in an exclusive telephone interview Tuesday.
"I inadvertently made contact with a student protester when I attempted to prevent a shouting, hostile group from entering the University Club — a dining room reserved for faculty, staff, and their guests," history Professor Williamjames Hoffer said.
When he heard the loud mob of students, he said he approached the doorway and held out his hand like a "traffic guard" to stop them from proceeding into the room.
"I held out my hand in the sign of a 'stop' and came into contact by accident with one of the student's shoulder," he said. "The rest of the incident is on video showing the resulting shouting match about their trespassing and assault, shouting and disturbing the peace in a threatening manner, on the people having lunch there."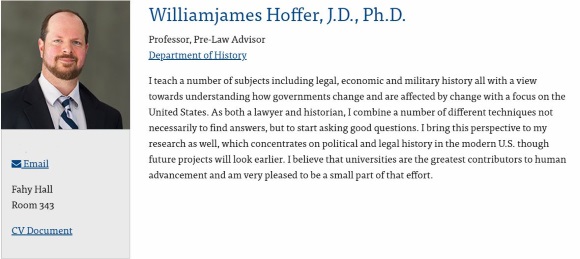 "I was intimidated by them," the professor added. "They were invading the space and seemed like a hostile mob."
"At the urging of some of my friends, I eventually disengaged and they chanted some more, including 'get it done or shut it down' and 'you have nothing to lose but your chains,' then left to post their false allegation that I had 'shoved' a student, and the video recording that only showed the time after the alleged incident," the professor told The Fix.
Hoffer said he was surprised that this type of mob-like behavior had spread to his small catholic campus in South Orange, saying he'd seen it at Middlebury and Berkeley "but I never thought this would happen at Seton Hall."
According to the protesters, on their official Twitter page, they tweeted their side: "During our PEACEFUL protest Professor Williamjames Hoffer here at Seton Hall University, shoved a student and had to be held back by his faculty members… This is WHY we are protesting! The security has been 'protecting' the provost while the students are being attacked!"
During our PEACEFUL protest Professor Williamjames Hoffer here at Seton Hall University, shoved a student and had to be held back by his faculty members… This is WHY we are protesting! The security has been "protecting" the provost while the students are being attacked!

— SHU_concerned44 (@SConcerned44) October 29, 2018
In a tweet six minutes later, the group said footage of the incident would be released later that night. Footage has yet to be released on their Twitter or Facebook page.
Reached for comment by The College Fix to speak about the allegations regarding Professor Hoffer, Concerned 44 declined to comment on that topic.
Professor Hoffer told The Fix that after the incident the president and provost of the university had their offices overrun with student protesters upset about what had happened, yelling things such as "we demand justice" and "no justice, no peace."
Leading up to this event, the campus had been on edge due to the rowdy protesters, and some on campus have said they are sick of their aggressive antics, according to an article in Patch.
Seton Hall students protesting this morning for their 5 demands of the university. If we don't get it.. SHUT IT DOWN! #Concerned44 @SConcerned44 pic.twitter.com/EHKex9EDqZ

— little legend 👑 #Concerned44 (@bethalmighty16) October 25, 2018
"The group has been noticeably seen openly protesting outside of President's Hall as well as in the university library and in multiple classroom buildings including Stafford Hall," a student who asked for anonymity told Patch.
"While I am supportive of peaceful protests, this protest is anything but peaceful. Being screamed at while walking to and from class, having classes be disrupted by vocal protests, and being unable to focus and study for midterms while in the library are just some of the problems caused by these protests. You cannot preach about wanting to enhance the university and the experiences of students while disrupting the education of others around you," the student said.
Even administrators had become weary of the protesters, who crashed the president's office for a lengthy sit-in.
Sleep in at President's Hall since our demands have not been met #Concerned44 @SConcerned44 pic.twitter.com/j3uE5fOYul

— little legend 👑 #Concerned44 (@bethalmighty16) October 26, 2018
Late last week, the student group had been warned via email that further protests inside the Presidents Hall would be "in violation of university policies," according to emails posted to the group's Facebook page sent from Tracy Gottlieb, a university administrator.
Tweets from Concerned 44 state that they are "a group of students advocating for the marginalized student body at Seton Hall University" who "are deeply dissatisfied with the way students of color have been treated and represented and we are holding the administration accountable." The group has five specific demands in which they are stating the university must meet to end their protests.
On Tuesday, those demands were met by campus leaders.
"I once again informed the students that the University's senior leadership has listened to their concerns. We are committed to making immediate changes that are aligned with Seton Hall's mission and dedication to provide a high-quality educational experience for all our students," interim campus President Mary Meehan said in a statement obtained by The College Fix. "Faculty are prepared to make changes in academic programs and departments, recognizing that these changes require additional time for careful analysis and study."
Campus officials have agreed: to "immediately begin a search for a full-time English faculty member specializing in Latin American, Latino/a literature and culture for Fall 2019"; that the school's "goal is for our faculty to proportionately reflect the students we serve"; provide some sort of "enhanced training for all members of the University community"; "create a line item in the next University budget, funded with an additional $20,000 for student-planned activities during Black History, Hispanic-Latino History, Women's History, and Islamic History months and other multi-cultural celebrations"; and allow "student input in all full-time faculty searches."
"These actions represent the culmination of many discussions among many constituencies this past week. The Concerned 44 shed a brighter light on issues that needed to be addressed. The University is committed to these actions and will immediately initiate them," Meehan stated.
CAVED: 10 college presidents surrendered to campus protestors' diversity demands
MORE: University silent after caving to students who occupied campus building
Like The College Fix on Facebook / Follow us on Twitter