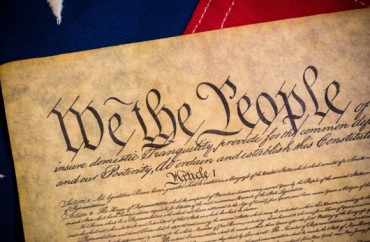 Should Supreme Court justices interpret the U.S. Constitution based on what the Founding Fathers meant at the time — or today's modern mores?
Most college students say the latter, according to a new College Fix poll, meaning the majority of young people today support a Supreme Court that makes decisions based on a living Constitution as opposed to supporting originalism.
The College Fix asked 1,000 college students: "Should future U.S. Supreme Court nominees base their rulings on their understanding of what the U.S. Constitution meant as it was originally written, or should future nominees base their rulings on what they think it means in current times?"
Sixty-nine percent replied "current times," while 19 percent supported its original meaning. The rest said that they are not sure.
The online poll was fielded Sept. 1, roughly two weeks before the nation marks Constitution Day on September 17. The poll was facilitated by College Pulse, a survey and analytics company focused on college students, and has a margin of error of plus or minus 3.5 percent.
When the results are broken down by political affiliation, a stark divide emerges.
A whopping 86 percent of college students who identify as Democrat want Supreme Court nominees with a modern interpretation, while only 26 percent of students who identify as Republicans support it.
Independents also lean heavily toward a living Constitution at 70 percent.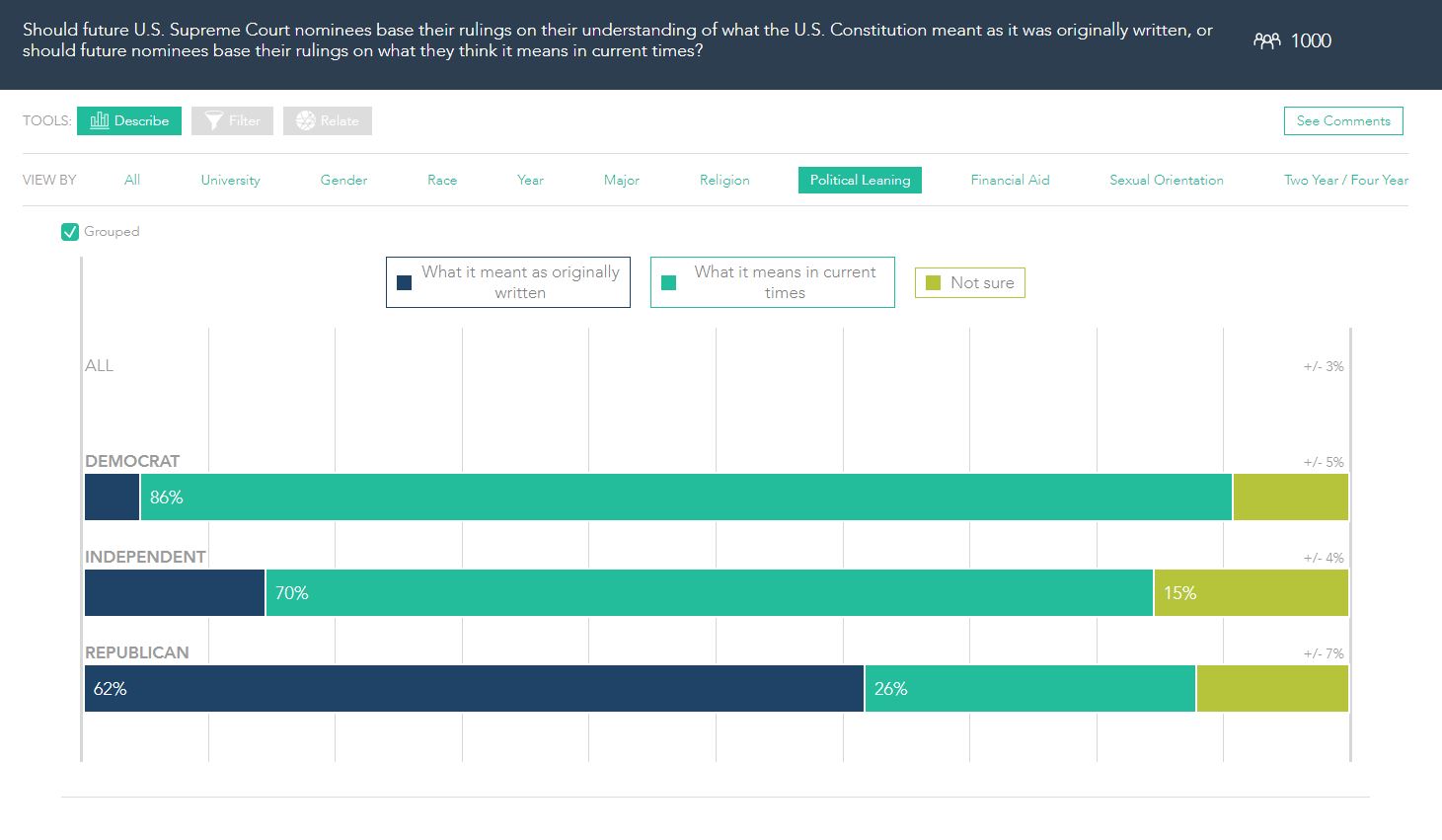 The issue has become a heated one, especially recently, as noted Harvard Law School scholar Cass Sunstein recently argued in a May 2020 op-ed headlined: "The debate over constitutional originalism just got ugly."
"You cannot say that the original understanding is binding because the original understanding was that the original understanding is binding," Sustein argued. "… Some originalists act as if the text of the Constitution and the original understanding of that text are the same thing. They aren't."
But many other legal experts, including the late U.S. Supreme Court Justice Antonin Scalia, have defended originalism as the best legal method to interpret the Constitution.
"The reality is that originalism is … the only real verifiable criteria that can prevent judges from reading the Constitution to say whatever they think it should say," he has said.
As for The College Fix poll, the sample was drawn from College Pulse's undergraduate pool that includes over 270,000 verified students representing more than 900 different colleges and universities in all 50 states.
Its results are somewhat similar to a Pew Research Center poll from 2018 that found a majority of Americans, 55 percent, say the U.S. Supreme Court should base its rulings on what the Constitution "means in current times."
"This represents a shift in public opinion, which was divided on this question for more than a decade," the center reported at the time.
In the comments section of The College Fix survey, students have the option to anonymously weigh in on the questions using only their school title, and a variety of responses were fielded.
Most of them were written by students who support originalism.
Penn State: If the Constitution means whatever we want it to mean today, then we have no Constitution at all.

NC State: So should the supreme court be a law writing body with literally zero oversight? No!

University of Alaska: Sigh…..if it's not in the constitution, it is to be left up to the individual states to determine, all other determinations about the constitution must be done with the understanding of what the original intent was.

That being said, if something is so barbaric or outdated that it is unfeasible or unconscionable to continue to apply those laws, then we can always amend the constitution, like we did with slavery. However this should not be done lightly, as an uneven application of amendments could alter the fabric of the constitution into something that strips freedoms and we end up with something none of us want like we did with prohibition.

Tread lightly my friends, and please try to understand that how it is written now affords is far more protections and rights than any other country enjoys in the world.

Truman State University: The Constitution is a living document, that was the view of the founders. It is not meant to be rigidly set in the 1780s.

University of Illinois at Urbana-Champaign: Basing your decision on current understanding, is writing law from the bench. It is wrong and immoral. If you don't like how the Constitution is written, we have an amendment process that has been successfully used 27 times.

Worcester Polytechnic Institute: Governance from the bench is the exact reason why Dred Scott v. Sanford went the way it did. They wanted slavery, they got it.

Clark Atlanta University: I feel you should always go with current times.

UTK: All you current times morons are morons. OK IF YOU SAY THAT 2ND AMENDMENT APPLIES TO AR15s not FUCKING MUSKETS it's one way or the other kids.
MORE: Vanderbilt quiz: Constitution was 'designed to perpetuate white supremacy'
IMAGE: Shutterstock
Like The College Fix on Facebook / Follow us on Twitter