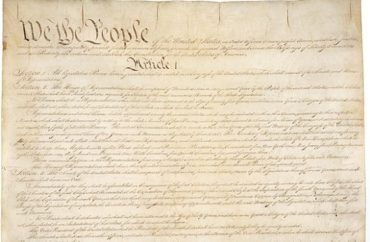 A quiz given to students at Vanderbilt University recently asked: "Was the Constitution designed to perpetuate white supremacy and protect the institution of slavery?"
When one student answered "false," the question was marked wrong.
That according to a screenshot of the "post lecture quiz" obtained by Young America's Foundation, which reported the survey was posed to students enrolled in a political science course.
The foundation added the class boasts more than 800 students online and is billed in its syllabus as "the largest class that Vanderbilt has ever taught."

"To attempt to boil down the country's greatest founding document as simply being white supremacist is a new low – marking any student wrong who dares to disagree with this ridiculous statement is heinous," YAF's Kara Zupkus noted.
Asked for comment by The College Fix, a Vanderbilt spokesman emailed a statement on behalf of the university:
Consistent with our commitment to the principles of free speech and academic freedom, Vanderbilt has long fostered an environment in which diverse ideas and opinions can be expressed in our efforts to both model, and teach, the principles of civil discourse. The question was posed to stimulate discussion. Students were in fact not rewarded or penalized for their answers. It is unfortunate that the intent behind and purpose of the academic exercise have been misconstrued. We appreciate that our students, faculty and staff have historically engaged in respectful dialogue and we hope this continues.
As for the notion that the U.S. Constitution was "designed to perpetuate white supremacy" and protect slavery, it's false, said David Randall, director of research for the National Association of Scholars.
"The Founding Fathers deliberately chose to avoid explicitly endorsing slavery in the Constitution, rejecting a substantial push to insert an explicit endorsement of slavery. The Constitution gave no legal or moral justification to slavery," Randall told The College Fix via email.
"The Constitution was not an abolitionist document, but it gave future abolitionists the tools they would need to restrict slavery, or even to doom it by a chokehold," Randall said.
"Abraham Lincoln correctly read the Constitution as the foundation of abolition, and the freedom of all Americans. Abolition, as all American efforts for freedom, have succeeded by building upon the Constitution. Those who denigrate the Constitution seek to destroy the liberties it guarantees."
Former Vanderbilt University law Professor Carol Swain, a Black Voices for Trump advisory board member, told Fox News she is not surprised by the Vanderbilt quiz given the left's narrative.
She also weighed in on critical race theory, taught at universities. The White House on Friday put out a memo stating federal agencies can no longer receiving funding for critical race theory training sessions.
"Praise the Lord," Swain said in response with a smile. "Because the diversity, equity and inclusion training does the opposite of what it says it will do. It is divisiveness training. What I believe America needs is unity training."
MORE: Black law students demand classroom diversity monitors to report 'questionable conduct'
Like The College Fix on Facebook / Follow us on Twitter