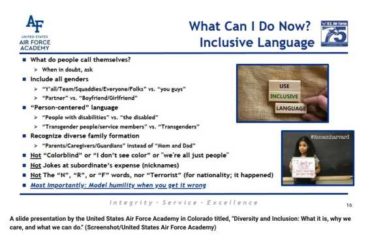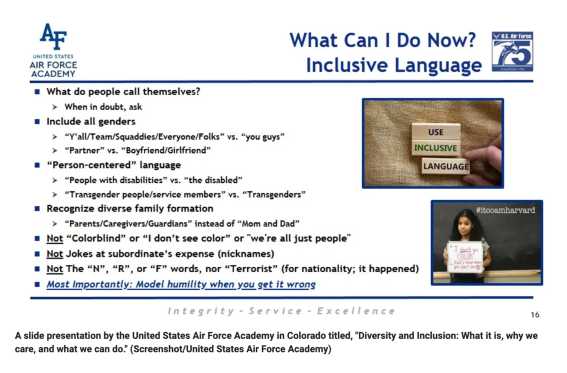 Use 'partner' rather than 'boyfriend or girlfriend,' the training instructs
"Include all genders" and "recognize diverse family formation" are among the instructions on an "Inclusive Language" slide shown to cadets at the United States Air Force Academy campus in Colorado, Fox News reported.
Fox obtained a screenshot of the slide, part of a training titled, "Diversity and Inclusion: What it is, why we care, and what we can do."
The slide instructed cadets to use "partner" rather than "boyfriend or girlfriend" and "parents/caregivers/guardians" instead of "Mom and Dad."
Cadets also should not say that they are "colorblind" or "they don't see color" or "we're all just people," according to the slide.
"The documents were shared with Fox News Digital by Rep. Mike Waltz, R-Fla., a Green Beret and Afghan War veteran, who said the materials had alarmed cadets," according to the news outlet. Waltz has been outspoken about wokeness at military academies, previously criticizing and exposing West Point for pushing critical race theory.
"It's been a tradition in the military to get letters from mom and dad or your boyfriend and girlfriend for as long as there's been a military," Waltz told Fox.
"Now we're instructing every cadet entering the Air Force to not say 'mom' and 'dad,' to not say 'boyfriend' or 'girlfriend,' and this kind of drive towards gender neutrality," he said.
Cadets were also informed during the presentation about extra Diversity and Inclusion "resources" at the academy's Colorado Springs campus, including a "D&I Reading Room."
That room is a "safe space" intended "to broaden and deepen [cadets'] exploration of the issues involved in diversity, inclusion and justice," according to a February 2021 Air Force news release.
"Mark Jensen, president of the Academy's faculty senate and a philosophy professor, said the reading room is the result of teamwork between faculty members and the Academy's ongoing Critical Conversation series that formed in the wake of George Floyd's Death," according to the release.
"We need to foster an understanding about the challenges of diversity, racism and injustice, promote a wide-range of perspectives and be respectful of people we agree and disagree with," Jensen said, according to the release.
The Air Force Academy also sponsors a "Cadet Wing Diversity and Inclusion Program." Graduates are given a purple rope to wear across their left shoulder "symbolizing their position as a diversity representative" so that they can "advise students on diversity," according to another news release.
MORE: West Point is going woke, alumnus warns
IMAGE: Fox News screenshot
Like The College Fix on Facebook / Follow us on Twitter