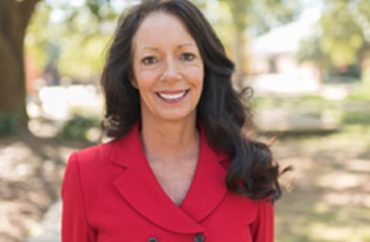 The status of her two colleagues remains unknown
University of South Alabama recently cleared one professor of wrongdoing for a 2014 photo at a Halloween party where she is seen holding a noose.
Professor Teresa Weldy (pictured), who teaches management at the public university, is back at work after an investigation against her ended.
The university sent a news release to media outlets but has yet to post it publicly on its website. South Alabama has not released updates on the two other professors, Alex Sharland and Bob Wood.
"A thorough investigation of Dr. Weldy's participation in the event was conducted by an independent, external investigator," the university stated, according to NBC 15. "The investigator's report was then reviewed by the Complainants, a group of faculty, staff and students representing those who had expressed concerns."
The complainants reached a "unanimous conclusion…that there was no basis for the University to continue with a formal process against Dr. Weldy" under the faculty handbook.
"The investigator's report indicated that Dr. Weldy appeared in a photograph with another faculty member who was dressed as a British 'hanging judge,' with both holding a noose," the university stated in its news release. "Dr. Weldy was present at the costume contest for a few minutes and did not plan in advance to participate."
"Dr. Weldy was not wearing a costume at the event and did not have a part in providing the noose, which was part of another person's costume," the university said. "Dr. Weldy reported that she did not know of the existence of the photo until it appeared in the media."
MORE: Three professors suspended over costumes
IMAGES: University of South Alabama; WKRG
Like The College Fix on Facebook / Follow us on Twitter