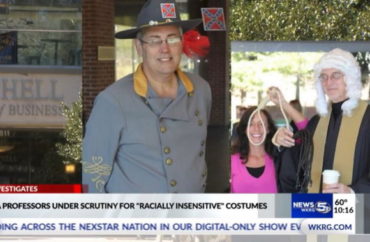 Investigation is complete, but outcome is still pending
University of Southern Alabama leaders are still determining whether three professors should be sanctioned for Halloween costumes worn during an on-campus party in 2014.
The professors were placed on administrative leave in March 2021 after images of the costumes were rediscovered and complaints were lodged.
The photos, which had been posted on Facebook in 2014, showed "then-Mitchell College of Business dean Bob Wood dressed as a Confederate general and professors Alex Sharland and Teresa Weldy posing with a whip and a noose," WKRG reported.
An investigation initiated by the university was completed in November, but a conclusion has not yet been reached on what, if any, sanctions the educators face.
University spokesman Lance Crawford pointed The College Fix to a statement published on November 5, 2021 by the university's Interim President John Smith explaining that the outside investigator had completed the probe.
"Outside counsel Suntrease Williams-Maynard has concluded her investigation, which included numerous interviews intended to document the facts of these incidents," Smith wrote.
Smith explained that the investigator's information will be "utilized in accordance" with a policy from the 2014 Faculty Handbook, which states that complaints against faculty can be based on "unlawful discrimination based upon sex (including pregnancy) or sexual orientation, or unlawful discrimination or harassment based on race, religion, color, national origin, age, disability, protected veteran status or genetic information."
"The first step in the process involves efforts to informally resolve the matter, and that process will commence in the near future," Smith wrote.
Bob Wood, Alex Sharland, and Teresa Weldy – the three faculty members who were under investigation – did not respond to two requests from The College Fix to report whether they remain on administrative leave or offer additional comments.
An earlier statement released by Smith on May 27 clarified that a formal resolution procedure would involve a committee analyzing materials from the investigation.
The committee could then decide whether the incident was a) not a violation of policy, b) not a violation, but unacceptable behavior subject to discipline, or c) a violation of policy requiring sanctions.
One legal free speech expert who weighed in on the situation when the controversy emerged in March argued the three University of South Alabama professors were wrongly suspended.
Writing for Liberty Unyielding, Constitutional law attorney Hans Bader pointed out that "Historical depictions, such as dressing in military garb, are protected by the First Amendment even if they offend people on campus."
"If professors can be disciplined for wearing confederate garb, it is hard to see how historical reenactments of the Civil War can continue, despite their clear educational value," Bader wrote.
MORE: Three professors suspended this month over Halloween costumes from 2014
IMAGE: WKRG screenshot
Like The College Fix on Facebook / Follow us on Twitter