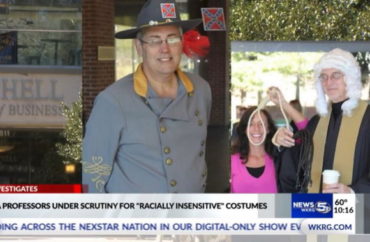 UPDATED
Three University of South Alabama professors have been placed on administrative leave over Halloween costumes they wore and posed with at an on-campus party in 2014, the campus has announced.
"The faculty members involved have been placed on administrative leave pending the outcome of the investigation and any related proceedings," university President Tony Waldrop said in a March 5 statement.
The photos show "then-Mitchell College of Business dean Bob Wood dressed as a Confederate general and professors Alex Sharland and Teresa Weldy posing with a whip and a noose," WKRG5 reports.
The three teach in the university's Mitchell College of Business. Wood and Sharland, who have tenure, have apologized, while Weldy, who is not tenured, "chose not to apologize," the news station reports.
University brass is reportedly taking heat from the campus community for being aware of the photos since 2020 but not doing more about it.
With that, Waldrop upped his efforts on the nearly 7-year-old matter, calling the costumes and poses "offensive" and "contrary to our core principles of diversity and inclusion."
He pledged in his statement that the university will "address this situation in a manner that demonstrates our unwavering commitment to diversity, inclusion, and a safe and welcoming environment for every member of our community."
"With that in mind, I am writing to let you know that the University has engaged the services of an independent, highly qualified external attorney to investigate this matter and submit the investigative report to University leadership for further action, pursuant to the University's policies of non-discrimination and equal opportunity/equal access."
At least one legal free speech expert has weighed in on the situation, arguing the three University of South Alabama professors have been wrongly suspended. Writing for Liberty Unyielding, Hans Bader points out that "Historical depictions, such as dressing in military garb, are protected by the First Amendment even if they offend people on campus."
"If professors can be disciplined for wearing confederate garb, it is hard to see how historical reenactments of the Civil War can continue, despite their clear educational value," Bader wrote, adding:
The fact that something is tied to the Confederacy does not strip it of First Amendment protection. For example, depictions of the Confederate flag are protected by the First Amendment. (See Sons of Confederate Veterans v. Glendening (1997)).

Wearing a Halloween costume is not an endorsement of the character depicted in the costume or that character's beliefs. The whole point of a Halloween costume is to be scary or eye-catching. A person who wears a costume of Jack the Ripper is not thereby endorsing or threatening to commit murder. Similarly, a person who dresses as a confederate or carries a whip or a noose on Halloween is not endorsing the revival of slavery or lynching, or the revival of the Confederacy.

The fact that some viewers may have been offended by these costumes did not give the university the right to suspend the professors. For example, an appeals court ruled that a university could not punish a professor for writings that denigrated black people, even though his writings drew a very hostile response from some students (See Levin v. Harleston (1992)).

…But these professors likely have due process claims if they are fired, or are disciplined for "racial harassment."  The university president cited the university's "policies of non-discrimination and equal opportunity/equal access," suggesting that they are being investigated for racial harassment. But merely wearing a costume does not constitute racial harassment against students or employees.
Halloween costumes have long been a point of contention on college campuses in the era of cultural sensitivity, microaggressions and cancel culture.
Last year, the University of Dallas rejected calls to punish students for a group Halloween costume that portrayed "Trump's Wall" – complete with a student wearing a fake mustache and name tag reading "José."
Also last year, a University of Oregon law professor took heat for a costume she wore to a Halloween party she hosted in 2016 that included her wearing black makeup, a stethoscope and an afro wig. The costume referenced a book about a lack of diversity in the medical field.
In 2019, a nationwide poll found that a majority of college students say those who wear highly offensive Halloween costumes on campus should be punished.
In 2016, students at Tufts University were told they could face an investigation by the campus police if they wore an offensive costume.  That same year at the University of Florida, officials offered a 24/7 counselor they could call if they were offended by a costume.
Editor's note: This post has been updated to add comment on the illegality of the professors' suspension.
MORE: University of Texas issues 29-point checklist on offensive Halloween costumes
Like The College Fix on Facebook / Follow us on Twitter