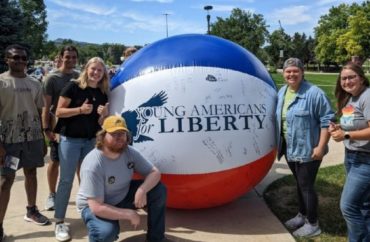 State's highest court allows lawsuit to proceed against University of Alabama-Huntsville
A free speech lawsuit against the University of Alabama in Huntsville by its Young Americans for Liberty chapter over a policy that required permission to speak on campus will proceed after the state's highest court reversed a lower-court ruling.
The lawsuit challenged a UAH policy that "limits most student speech to small 'speech zones' and requires students to obtain a permit three business days in advance to speak on campus," according to Alliance Defending Freedom, the legal nonprofit that represents the YAL club.
The group challenged the permit requirement and argued it violated the 2019 "Alabama Campus Free Speech Act." University spokeswoman Elizabeth Gibisch has not responded to an email sent in the past week that asked for comment on the ruling.
An ADF attorney updated The College Fix on the status of the lawsuit via email on November 22.
Now that the Alabama Supreme Court has allowed the lawsuit to continue, "the case will proceed on the merits in circuit court," according to attorney Mathew Hoffmann.
Hoffmann said that ADF was not aware of any plans by the university to change its free speech policies in light of the lawsuit.
He went on to describe a trend his organization is seeing on college campuses and how free speech restrictions are impacting students.
"Unfortunately, we see universities shutting down free speech on campus all too often," Hoffmann said. "But Alliance Defending Freedom is fighting back, and we have achieved over 435 victories on campuses across the country," he said.
"All students, regardless of viewpoint, should be able to speak freely and engage in respectful debate on campus. After all, that is the purpose of the university," Hoffmann said.
The ADF attorney continued:
When universities restrict free speech, students suffer the consequences. Burdensome policies stamp out the free debate that is essential to the university's pursuit of knowledge in the marketplace of ideas. And that's exactly what's happening at the University of Alabama in Huntsville, which requires students to get prior permission to speak on campus. Alabama law is clear: students don't need a permit from college officials to speak on campus, and we are confident, that when brave students like our clients take a stand, free speech will triumph.
Restrictions, such as those imposed by University of Alabama officials, "prevent students from fully expressing themselves on campus," according to a program officer with a separate free speech group.
"Broad, vague policies restricting students' First Amendment rights prevent students from fully expressing themselves on campus," Senior Program Officer at the Foundation for Individual Rights and Expression Zachary Greenberg told The Fix.
MORE: Yale student paper blames free speech for gay club shooting
"Public universities bound by the First Amendment must respect students' expressive rights," according to Greenberg. "When students fear punishment by their universities for speaking out, they will self-censor, dampening the free exchange of ideas that forms the basis of a college education."
"The best way to fight for free speech is by standing up for the rights of those you don't agree with," Greenberg said. "Free speech protects all of us equally," he said.
"Students should learn to recognize when their colleagues' free speech rights are violated, create coalitions to defend expressive rights, and hold universities accountable for violating their rights," Greenberg said.
Young Americans for Liberty's national headquarters did not respond to a request for comment.
MORE: Alabama university threatens to suspend students for 'vileness'
IMAGE: Young Americans for Liberty/Instagram
Like The College Fix on Facebook / Follow us on Twitter