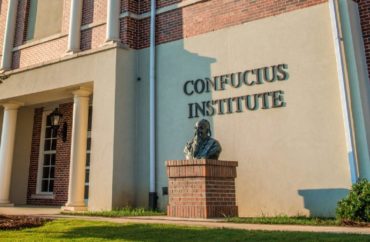 Institute follows 'a pro-China narrative,' experts say
An Alabama university shut down earlier this month its on-campus Confucius Institute, a Chinese language educational center funded by the Chinese Communist Party.
Troy University trustees cited "federal regulations that will limit the availability of funding to institutions that maintain their agreements with Chinese partners," according to a university news release.
"CIs [Confucius Institutes] are essentially a Beijing-run program in teaching, material, and curriculum," Ian Oxenvad, senior fellow at the National Association of Scholars, told The College Fix in an email.
China provides the Confucius Institute funding while "the host school usually does little more than offer facilities and some administrative support," he said.
Confucius Institutes bill themselves as Mandarin language programs, he said. However, they "promote censorship of views critical of the PRC and the Chinese Communist Party. They also follow a pro-China narrative in educational materials."
The Fix reported last October that Troy had been a holdout in maintaining its CCP-linked Institute despite many closures elsewhere.
Because of their connection to the Chinese Communist Party, Confucius Institutes have drawn scrutiny from scholars, political groups, and both Democratic and Republican lawmakers amid rising concerns regarding the Confucius Institutes' open connections to the dictatorial regime, The Fix reported last October.
These concerns have grown to the point that Congress is writing mitigation measures into federal law. The 2021 National Defense Authorization Act, the U.S. military's annual budget, specified that the Department of Defense would not provide contracts, grants or any other funds to universities with operating Confucius Institutes "other than amounts provided directly to students as educational assistance," according to The Fix. 
The University of Chicago, for one, suspended in 2014 its negotiations to renew its agreement with a Confucius Institute following a petition, signed by more than 100 faculty, "calling on the Council of the University's Senate to vote to terminate the university's contract with Hanban, the government entity that oversees the centers of Chinese language teaching and research," Inside Higher Ed reported.
"This is really an anomalous sort of arrangement where an entity outside the university and a powerful entity and an entity that has strong interest in what's taught is in effect seriously influencing who's teaching and what's taught under our name and inside our curriculum," Professor Emeritus Bruce Lincoln, a petition organizer, told Inside Higher Ed.
The curriculum of the Confucius Institutes academically "whitewash" things not in the CCP's favor, Oxenvad told The Fix last year.
"Tibet, Taiwan, and criticisms of Communism can be seen as taboo in these programs," Oxenvad said this March.
Even more, the Chinese government is in charge of the teachers and curriculum.
"China chooses and vets teachers in the CIs, who ultimately teach in the classroom, and supplies all classroom material," according to Oxenvad.
In addition to propaganda, "the Confucius Institutes offer China easy spying opportunities on American campuses," Oxenvad told The Fix. "CIs and their replacement programs offer China an institutional apparatus to conduct intelligence collection on sensitive dual-use technologies being developed at US universities and colleges."
Confucius Institutes also "offer China the means of facilitating surveillance on dissidents and conducting other activities," Oxenvad said.
However, a report from NAS suggests that even as U.S. universities shut down Confucius Institutes, China is prepared to engage American campuses in other ways.
"Colleges and universities…are busily 'closing' their Confucius Institutes, only to replace them with other, substantially similar, forms of partnership with the Chinese government," Rachelle Peterson, senior research fellow at NAS, wrote in an article last year.
Even after shutting down their Confucius Institute, the University of Michigan, for one, continued to receive funding from the Hanban, the Chinese government agency responsible for Confucius Institutes, according to the U.S. Education Department foreign gift reporting website.
According to Peterson, China is shifting away from its Confucius Institutes and investing in other programs.
"Overall, the United States is headed toward a post-Confucius Institute world," Peterson stated. "The Chinese Communist Party knows that and is prepared. Chinese government influence is appearing under new names, in new guises. Our colleges and universities must have the strength of character to resist."
The Fix reached out with questions concerning the Troy University Confucius Institute, such as funding and closure, to the Troy Board of Trustees; Matt Clower, director of university relations; and Andy Ellis, director of communications. None have responded.
MORE: Higher ed should disclose China financial ties or lose federal dollars: analysis
IMAGE: Troy University
Like The College Fix on Facebook / Follow us on Twitter