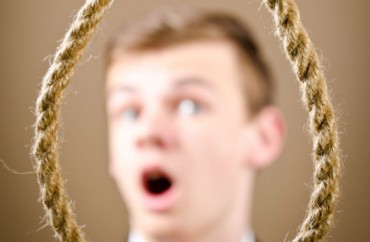 No photos yet available.
An alleged noose was found by construction workers at an off-campus Johns Hopkins University construction site last Thursday.
According to The Baltimore Sun, the contracting company discovered the "noose" where a Whiting School of Engineering lab is being renovated.
The area has since been shut down "until further notice."
As could be expected, Johns Hopkins officials reacted immediately with disgust and contempt.
"Johns Hopkins University condemns this act of hate," JHU President Ronald Daniels said on Friday. "We find such racist imagery horrifying and repugnant and a direct threat to the Black community at Johns Hopkins and in Baltimore, standing in stark opposition to the values of equity, justice, and humanity to which we are firmly committed."
Senior VP for Administration and Finance Daniel Ennis added the university "will do everything within our power to make sure our community is free from hate and intimidation. Acts like this have no place in our society."
"We know that incidents like this – wherever they happen – can cause or reinforce trauma for members of our community, especially our Black and Brown colleagues, students, and faculty," [Chief Diversity Officer Katrina] Caldwell said. "That this has happened at a moment when there has been such pain over racially motivated violence means we must lean in and offer the support our community needs now, and that we must become better, more informed allies in the urgent work that needs to be done to fight against racism in all its forms."

In the message he emailed to community members, [President] Daniels underscored what makes racist imagery such as a noose "horrifying and repugnant" and "a direct threat to the Black community at Johns Hopkins and in Baltimore."

"The noose stands as a deliberate symbol of the murderous terror of thousands of lynchings perpetrated against Black people in America since the beginning of this nation," he wrote. "It is a singular and terrifying image that through to the present traumatizes and dehumanizes millions of Black people."

At what he called "a watershed moment in America," Daniels said the university has been working with faculty, staff and students for several weeks to deepen its "work against racism and in support of racial equity and inclusion" and would continue to do so.
Interestingly, like the Bubba Wallace "noose" case, no photos of the object seem to be immediately available, either in the press or on social media.
MORE: 8 times 'nooses' on campus turned out to be hate crime hoaxes
MORE: Witnesses say Stanford U. noose likely used 'to hang ornaments'
IMAGE: R DOT Badowski / Shutterstock.com
Like The College Fix on Facebook / Follow us on Twitter