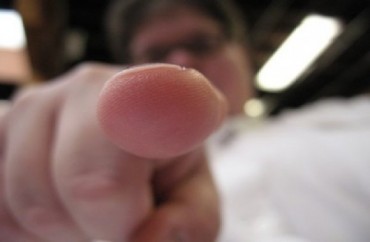 A doctoral student at the University of Southern California wants mandatory "critical race theory" workshops after "racially-charged" comments were made during an in-class assignment.
Gina Loring claims that last month some students in her "Challenges in Urban Education: Learning" class said "women of color should be sterilized" during a "shared document" discussion about minority women and prenatal care.
Another comment read "Take away their babies at birth."
According to the Daily Trojan, Loring says she was "stunned" by the remarks, so much so that she started a petition asking the USC Rossier School of Education "to implement accountability practices."
"Imagine if the cops had said, 'How do we clean up the homeless problem in Los Angeles?'" Loring said. "And imagine if their suggestion had been, 'We should wrap them up and shoot them because that would get rid of the homeless problem.'"
The petition notes a white female student confessed to writing the offensive comments, but said her group — which included "two Latinx women" — did not endorse their substance, and only offered them "as a possible solution, as that was [the students'] understanding of the exercise."
The comments were quickly deleted.
Loring brought the remarks to the attention of Professor Kim Hirabayashi — and was assured they'd be addressed. They were, but not to her satisfaction.
I said I did not think we should move on, and stated I was stunned by the inappropriate and offensive nature of the comments, given the socio-historical context of sterilization and separating families as tools of oppression and genocide, as well as the saliency of current immigration policies separating children from their parents. Several other students also expressed their discomfort with the comments. A white male student defended the students who had written the comments, stating there was no ill intention. The instructor took a diplomatic stance, stating she wanted to maintain a comfortable learning environment, and repeatedly emphasized that no one should feel blamed.
In addition to compulsory critical race theory (CRT) workshops for the (alleged) culpable students, Professor Hirabayashi, and all newly admitted students to the Educational Leadership program, Loring's petition demands the culprits (again, alleged) present publicly what they learned about CRT following their "training."
How delightfully Maoist.
Further demands include "a public acknowledgement of the incident" and an apology from the Rossier School and Professor Hirabayashi.
Another student of color in the class said learning has been impacted because the majority of students in the […]  class are people of color.

Loring said six students reached out to her expressing discomfort with how the incident was handled, but did not feel comfortable speaking about it publicly. …

Rossier Dean Karen Symms Gallagher said the school is aware of Loring's petition and is currently reviewing the matter.

"Our goal is to find an inclusive resolution that reflects both our commitment to an open exchange of ideas and our mission to teach students to value and respect the cultural history and the identities of those around them," Gallagher wrote to the Daily Trojan.

In the weeks following the incident, Loring filed a Title IX incident report and dropped the course from her record with a full refund, but said Rossier has not communicated with her since then.

Loring said she chose to attend USC, and specifically pursue a degree at the Rossier School because of its progressive mission statement, and said that she does not believe this situation reflects those values.
At press time the petition has 671 signatories out of a requested 1,000.
Read the full article and petition.
MORE: Critical race theory and free speech limits based on feelings
MORE: Beware of young educators bearing gifts from 'race trainings'
IMAGE: a2gemma/Flickr.com
Like The College Fix on Facebook / Follow us on Twitter