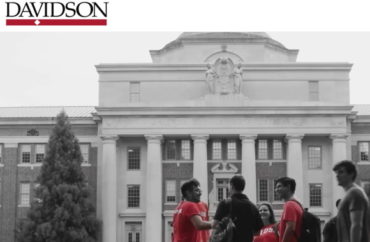 Education watchdog says more donors are voting with their wallets: 'They should know they aren't walking checkbooks'
The American Council of Trustees and Alumni recently conducted a survey that revealed a majority of major donors to Davidson College are dissatisfied with the growing ideological imbalance and intolerance of free speech the college has taken in the last decade.
"Many have cut back their philanthropic support to the college in response, which is a serious threat to the institution," according to the council's report on the small, private North Carolina-based college.
Recently, a cohort of Davidson alumni was one of five higher education groups that co-founded the Alumni Free Speech Alliance, focused on supporting free speech, academic freedom, and viewpoint diversity at their respective colleges and universities. The group is called Davidsonians for Freedom of Thought and Discourse.
Rep. Greg Murphy, R-North Carolina, an alumnus and donor to Davidson College, has been one of the most outspoken voices against college administration over the last decade. Murphy, who served on the Davidson College board of trustees and functioned as the alumni president, helped found Davidsonians for Freedom.
The group advocates for the college to foster intellectual freedom and supports an unfettered search for the truth, he said.
"When I was at Davidson College, there was a good balance of different opinions and thoughts, but unfortunately, over the last decade, the college has migrated towards an intolerance of differing opinions and a monolithic thought process," Murphy told The College Fix.
"I've heard directly from professors at the college who did not want to express their opinion over fears of not being places on committees or receiving tenure, and I've heard directly from students who cannot talk freely in the classroom because of grading practices by their professors."
The American Council of Trustees and Alumni survey was released in early November. It came out shortly after the college began the process of replacing the current president, Carol Quillen, who will step down after the 2021-22 school year.
The survey results highlighted major donors' dissatisfaction with the college under Quillen's leadership. Nearly 60 percent of major donors indicated that they have been unhappy with the direction of the prestigious liberal arts college over the last decade.
Donors showed low confidence in the college's defense of free expression during Quillen's tenure as president — only 20 percent of respondents said the administration protects free speech on campus.
Furthermore, the survey found that 94 percent of all donors and 99 percent of dissatisfied donors agreed that Davidson's next president should make free speech and civil discourse a "high priority."
The survey results also reflect a desire from donors and alumni to have a say in the direction of the college moving forward, as 71 percent of respondents said that it is important that the new presidential search committee includes benefactors and alumni.
Due to the college's direction, alumni have also pulled back on giving. The survey found that 37 percent of donors have either given less to their alma mater or stopped altogether.
"Davidson College is historically one of the top colleges in the country in percentage of alumni giving, but I've talked to other alumni who say that since the college has drifted so far left, they're going to stop donating," said Murphy, the North Carolina lawmaker.
The intent of Davidson stakeholders to defend free speech and change the direction of the college is a microcosm of the budding nationwide movement among alumni and donors to push back against indoctrination at their alma maters.
Murphy said the decline in free speech at a school he's invested in for nearly three decades pains him.
"On a primal level, this hurts because I've been a very faithful alumnus since my graduation in 1985, and, tragically, we've seen a destruction of freedom of expression on campus," he said.
Jonathan Pidluzny, vice president of academic affairs at ACTA, told The College Fix that the group plans to conduct more alumni surveys like the Davidson study.
"We decided to begin our series at universities where there's a very active alumni effort to ensure that a university is still a place that fosters a free and open marketplace of ideas," he said.
Many alumni and donors are dissatisfied with the direction of their alma maters but unsure what they can do to ensure freedom of thought and expression are protected, he said.
"We encourage alumni, when they support the school donations, to attach strings and make their views known. Alumni are probably the only constituency that is free to make their views known without any retaliation," Pidluzny said.
"Alumni should target their donations and only support what they think the institution is doing well. They should know they aren't walking checkbooks."
MORE: Alumni withhold donations, demand colleges enforce free speech
IMAGE: Davidson.edu
Like The College Fix on Facebook / Follow us on Twitter