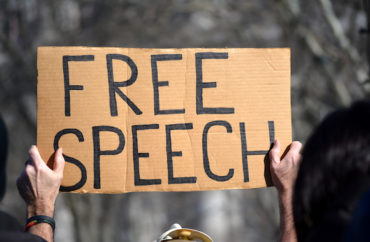 Group pledges to pushback against cancel culture on college campuses
United by a common desire to defend academic freedom, a group of concerned alumni have launched a new, nationwide organization seeking to push back against restrictions on free speech, cancel culture, and illiberal trends on college campuses.
In an October 17 Wall Street Journal op-ed announcing the Alumni Free Speech Alliance's formation, two of the group's co-founders wrote that while "free speech, academic freedom, and viewpoint diversity are in big trouble at U.S. universities," the fight against "forces of illiberal intolerance" on college campuses is "far from over."
Ed Yingling, an alumnus of Princeton and a co-author of The Wall Street Journal op-ed, told The College Fix that there has been a "massive wave of interest" since the organization's launch.
He said the group has received "hundreds of emails from alumni interested in creating alumni free speech groups at their colleges and universities," and plans to begin the "process of mentoring them in their start up phase" as they work to establish their own campus-specific organizations.
Alliance leaders promised in their op-ed their organization stands "ready to help" support interested individuals seeking to step up and start their own alumni free speech groups.
Its founding members represent alumni free speech groups at five college campuses: Cornell University, Davidson College, Princeton University, the University of Virginia and Washington & Lee University.
Asked why alumni of the five institutions chose to join together at this particular moment, Yingling pointed to no one specific incident or controversy, but rather a shared belief among members that alumni free speech groups are "critical" for the future of academic freedom.
The organization's website states that AFSA's priority is to "encourage the creation of alumni free speech groups for other colleges and universities" and to "create tools to help new alumni groups organize."
"To preserve the purpose of their institutions," according to AFSA, "alumni must become involved to make the case for free speech and academic freedom and to provide support for faculty and students who speak up on their campuses."
Tom Rideout, president of The Generals Redoubt at Washington & Lee University and a founding member of AFSA, told The College Fix that his institution's failure to live up to its commitments to academic freedom and viewpoint diversity was a significant factor motivating concerned Washington & Lee alumni to establish their own free speech group.
Rideout noted that despite Washington & Lee's 2015 endorsement of the Chicago principles, the university has repeatedly bowed to "cancel culture" and fostered a campus environment prone to the "absence of free expression" and the "choking off of viewpoint diversity."
Citing specific instances such as the "abrupt" June renaming of Lee Chapel, a 150-year-old National Historic Landmark and, more recently, attempts by Washington & Lee to ban the university's College Republicans chapter from campaigning for Virginia G.O.P. gubernatorial nominee Glenn Youngkin, Rideout said that "such incidents propelled our interest in the significance of free speech in maintaining the history, values and traditions of the University."
He pointed to the "egregious attempt to put a gag order" on the College Republicans, in which university administrators reportedly claimed that supporting Youngkin was a "violation of university policy" and ordered students to cease distributing materials promoting or endorsing his campaign, as an especially poignant example of the need for alumni free speech groups on college campuses.
ALERT: Check out our Campus Cancel Culture Database
IMAGE: Shutterstock
Like The College Fix on Facebook / Follow us on Twitter