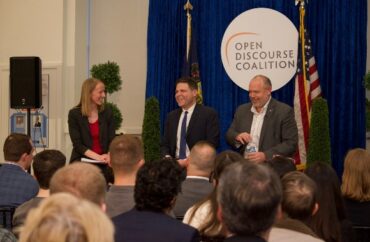 Coalition fosters 'open, civil discourse' on hot topics like race, guns, abortion
A new free speech organization at Bucknell University seeks to make a positive impact on the Pennsylvania campus.
Maximus Bean, a senior who spoke to The College Fix, described the big changes he has seen in the past three years thanks to the Open Discourse Coalition, an organization dedicated to fostering ideological diversity and free speech at the private university.
During freshman year, Bean said the campus felt hostile to his conservative views. He remembered a lecture that year, "Systemic Racism: Truth or Poetic Truth," that drew outrage from some faculty because it highlighted different perspectives about race.
One professor complained that "questioning the impact of systemic racism in the United States is itself offensive and racist," and pressured the university to censor news of the event, Bean told The College Fix.
In the years since then, Bean said he has seen the coalition bring about a lot of encouraging progress on campus.
Now, "students are able to talk about topics in a more nuanced way than professors typically teach," he told The Fix. "Despite that difference, the longer ODC has been around, the more professors have encouraged their students to attend events."
Established in 2020, the coalition's inception came after Bucknell alumni noticed a "lack of openness to a variety of intellectual viewpoints" in higher education, according to its website.
"Across the country, we have seen college students' dwindling confidence in their rights to free expression," Executive Director Dawn Toguchi told The College Fix. "In our communities and our country's politics, we see increasing polarization and an unwillingness to have open-minded, civil dialogue across differences."
Pointing to a 2022 Knight Foundation study, Toguchi said students support free speech, but they feel it is "less secure" than in the past. The study also found "students believe exposure to a wide spectrum of speech at college is important."
Ultimately, the Open Discourse Coalition "exists to ensure that students get that opportunity to be exposed to different viewpoints and to see and hear respectful disagreement on some of the toughest issues facing our country," Toguchi told The Fix.
The coalition organizes events at Bucknell that offer opposing viewpoints on issues like abortion, gun rights, race, and environmental issues. Prominent guest speakers have included Jordan Peterson, Edward Snowden, and Timothy Carney, a columnist for the Washington Examiner. Carney is on the advisory board of The Fix.
"Sometimes audience members change their minds and sometimes they learn how to better articulate views they already held," Toguchi said.
She remembered a "panel discussion on gun control and recent Supreme Court rulings in which one Bucknell professor said it was the first time he recalled in nearly 20 years that both sides of the gun control argument were appearing in the same program."
Toguchi said none of their events "have been disrupted nor have speakers been disinvited."
Coalition events range from "small lunchtime discussions with a group of 10 all the way up to 600," reaching at least 750 students each year at Bucknell, Toguchi said.
The coalition also hosts a Leadership Seminar to teach students like Bean analytical, organizational and critical thinking skills.
A May report by the Foundation for Individual Rights and Expression found the Open Discourse Coalition has had an overwhelmingly positive effect, elevating Bucknell "from the worst-rated college for free speech in the state of Pennsylvania to the best in just one year."
MORE: FIRE to Bucknell: Stop hiding transcript of broadcast that got students expelled
To accomplish this, the ODC has "prioritized sponsoring on-campus programs with faculty and student group cosponsors, so that we can reach as many students as possible," Toguchi said.
However, some believe free speech threats and closed-mindedness still thrive on campus.
Alexander Riley, a sociology professor at Bucknell and a political conservative, told The College Fix university administrators are not taking action to promote alternative perspectives.
Riley said he helped to found a similar group, the Bucknell Program for American Leadership and Citizenship, several years ago, but later "became convinced that the administration here was not committed to advancing the goals I had for that group."
"I also grew disappointed with the tepid commitment to real opposition of the existing Woke regime here by my faculty colleagues in BPALC, so I left the group in 2020," he said.
Asked about the impact of the new coalition, Riley told The Fix: "The Woke revolution continues to advance rapidly at Bucknell, and I don't see any evidence that BPAL or ODC has had any positive effect on that."
Bean told The Fix open discourse at Bucknell is better because of the coalition, but there still are problems. He said he feels more apt to share his views outside of the classroom than in it.
"However, I don't feel like my views will be respected as much, because they go against the grain for so much of what Bucknell teaches, and the assumptions already in place at the institution," Bean said.
But Toguchi expressed optimism about the strides they have taken to foster free speech thus far. Sharing future plans with The Fix, she said they are "working to provide more seminars and workshops to engage students more deeply through programming and alumni mentorship."
She also informed The Fix of how the coalition is inspiring action at other colleges. In October, she said students at Susquehanna University, another private university located near Bucknell, "held a program they modeled after one we held this spring on bipartisanship featuring two state legislators."
"There's much to do, we are working against what are alarming trends in higher education, but I'm very encouraged by what we're seeing at Bucknell," Toguchi said.
MORE: Blacklisting, vandalism, picket line: Outrage erupts at Bucknell ahead of Heather Mac Donald talk
IMAGE: Open Discourse Coalition/Facebook
Like The College Fix on Facebook / Follow us on Twitter