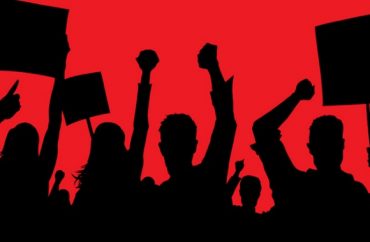 UPDATED
When Antifa scholar Mark Bray, known for advocating political violence, gave a guest lecture in September at Bucknell University on the eve of the 9/11 anniversary, it was met with little resistance.
The talk was hosted by the Humanities Center and largely welcomed on campus. A few wary scholars did not object to his speech, only how he was championed by organizers "as some kind of morally serious person courageously challenging evil."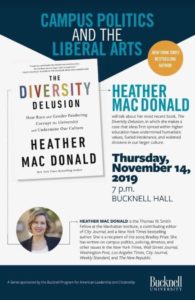 In contrast, a talk by conservative scholar Heather Mac Donald set for Thursday at the private, Pennsylvania liberal arts college has generated outrage among its left-leaning professors and students.
The talk is funded by the bipartisan Bucknell Program for American Leadership and Citizenship, also known as BPALC, and will focus on Mac Donald's recent book The Diversity Delusion: How Race and Gender Pandering Corrupt the University and Undermine Our Culture.
Despite the talk's innocuous title — "Campus Politics and the Liberal Arts" — the upcoming speech has prompted vandalism, fiery op-eds in the campus newspaper, a planned picket line, a counter-protest event, and perhaps most alarmingly, discussions of blacklisting students and scholars who support BPALC and its goals.
"It is evidence in support of Mac Donald's thesis in her latest book that some faculty and students are reacting to this as they are," Bucknell sociology Professor Alexander Riley said in an email to The College Fix.
Riley is one of eight scholars affiliated with Bucknell's American Leadership and Citizenship program, which is funded by the president's office and aims to support free speech, foster viewpoint diversity, and allow students to engage in robust academic inquiry with guest speakers.
That program is under attack at Bucknell.
"A woke shout-down culture now threatens to take the place of this traditional system of academic virtues," Riley said. "It rejects the old academic virtue of wide-ranging civil debate and embraces what is claimed, typically without argument, to be a superior method for settling debates: the emotional, personal indignation of the morally self-righteous, i.e., the woke."
Recently all of the posters advertising Mac Donald's talk have been either vandalized or thrown away, said Isabella Carrega, a student affiliate with the BPALC program, in an interview Tuesday with The College Fix. The vandalism consists of students covering up the flyers with print-outs of Mac Donald quotes taken out of context, she said.
Next, activist students and professors have planned a "picket line" protest prior to Mac Donald's talk in an effort to "shame" any of those who choose to attend, she said. What's more, they've planned a counter-event in protest of Mac Donald's talk to take place at the same time as her speech, she said.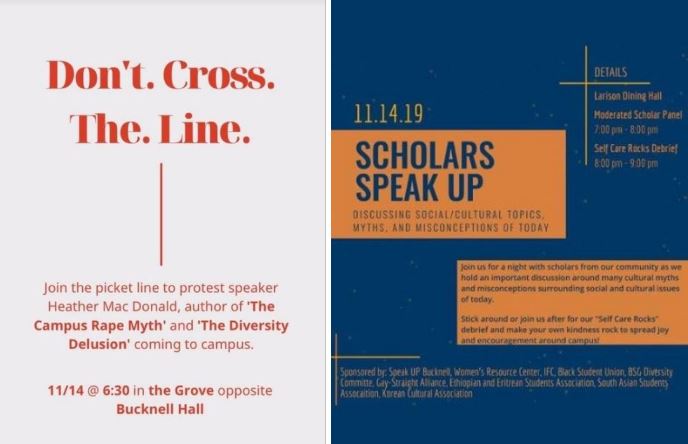 And finally, students discussed blacklisting the professors who are affiliates of Bucknell's American Leadership and Citizenship program in a recent group chat, she said, citing a screenshot of the chat.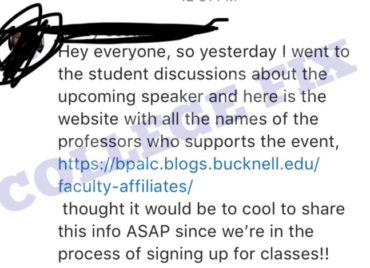 Carrega said she is disappointed her peers won't go to Mac Donald's talk and hear her out, just as she went to Bray's talk and listened to him.
"They basically have accused her of being racist and sexist," she said. "If they actually went and listened to her then they would probably be able to broaden their horizons instead of dissing her opinion as if it's nothing or believe what they have been indoctrinated with."
In letters to the editor to the campus newspaper The Bucknellian, both Mac Donald and the American Leadership and Citizenship program have been roundly criticized.
"Theirs is not the thesis of a speaker series, or a program, which claims to value 'diverse intellectual inquiry;' it is a statement of purpose for a clandestine group of reactionaries who want to launder partisan — even openly racist and sexist — opinions through perfunctory and unreliable research and openly dishonest inference from the same," Griffin Perrault, the opinions co-editor, wrote Nov. 8.
And contributing writer John Davidian wrote in an op-ed in late October: "We need to be comfortable not giving oxygen to the sort of lazy, anti-intellectual commentary that Mac Donald espouses. To reject decades of scholarship and academic research in the name of 'viewpoint diversity' is ahistorical and deeply violent, and goes against our aims as a university."
Reached for comment, Bucknell spokesman Mike Ferlazzo said the university supports free speech.
"At our core, Bucknell University deeply affirms freedom of expression and the open exchange of ideas for all individuals on our campus," he said. "While speech and actions aren't free from consequences, as a community we should be guided by a commitment to their open exchange. That includes viewpoints with which members of our community might disagree, sometimes vehemently, or perhaps even find offensive. Bucknell has not, to the best of our knowledge, barred a speaker from coming to campus based on their views or what they might say."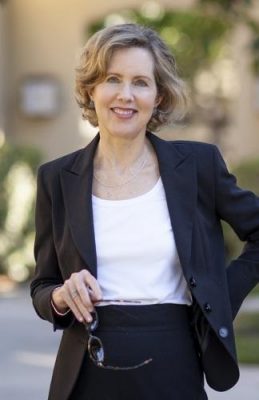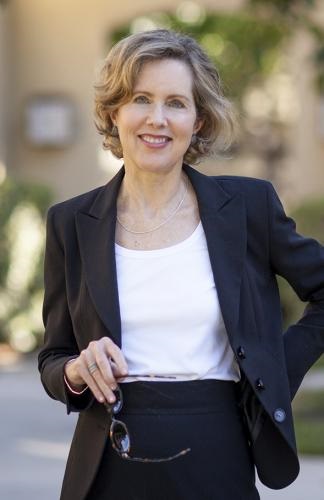 Mac Donald, for her part, said that student and faculty opponents of her visit to Bucknell are wrong to suggest her ideas put them at risk.
"Declaring that some ideas may not be expressed because they are wrong shows ignorance of the positive principles underlying free speech. Among those positive principles is intellectual humility—which includes an awareness that one may not possess the full truth, and a willingness to try to see the world from another perspective," she said Tuesday in an email to The College Fix. "There is also a self-interested ground for rejecting censorship, however: establish the validity of censorship and you risk its use against you."
She also criticized the notion that her talk would make women and minorities feel unsafe on campus.
"This alleged fragility in the face of disagreement is a novel development in Western intellectual history, and a particularly odd one for academics to cultivate. I am skeptical of the reality of this psychological or physical trauma. But even if it were real, encouraging it does a disservice to students, who may encounter a far greater diversity of views upon graduation, when they will no longer be protected by a paternalistic phalanx of sympathetic administrators and professors," she said.
Amid this controversy, some students and professors are discussing their opposition to their fellow students and professors who support free speech and intellectual diversity at Buckell through the BPALC program.
On Nov. 6, an event was hosted called "Controversial Campus Speakers." At it, students and about a dozen professors were in attendance. At one point, some participants looked up online the students and professors affiliated with the BPALC program and talked about ostracizing and blacklisting them, according to a student in attendance who asked not to be named by The College Fix for fear of retaliation.
Other talk at the meeting included how Mac Donald is a "threat to the livelihoods of marginalized communities on campus" and her presence is "dehumanizing," the student said.
MORE: Protesters offer 'safe space' from 'Diversity Delusion' author Heather Mac Donald
CORRECTION: The student government did not fund the Bray talk. 
IMAGE: Shutterstock
Like The College Fix on Facebook / Follow us on Twitter