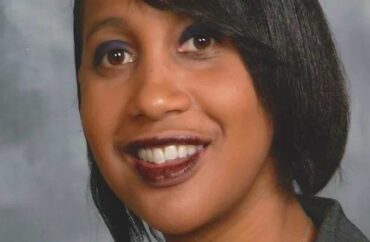 An adjunct professor at American University's School of Public Affairs says criticisms of Fulton County, Georgia District Attorney Fani Willis are "racist" and "sexist."
Bev-Freda Jackson (pictured), whose expertise lies in the areas of "racial disparities, racial isolation" and "disproportionality and disparate treatment of children of color across systems," is particularly upset that Donald Trump and an "unidentified member of his presidential campaign" made "personal attacks" against Willis.
These include calling her a "young racist," accusing her of having an affair with a gang leader and highlighting her father's role in the Black Panthers.
"Black women […] face the same public scrutiny as their white male and female counterparts," Jackson writes in The Conversation. However, in this "age of Trump," black female DAs have the "extra burden of gendered and racist attacks."
Jackson says this is due to the DAs' desire to rectify "perceived structural racism" an enact criminal justice "reforms," which are "often at odds with traditional tough-on-crime policies."
Jackson notes a few other black female DAs such as St. Louis' Kim Gardner and Baltimore's Marilyn Mosby. Gardner, who critics say let too many crimes — even homicides — go "unpunished" was removed from a case that received widespread media attention during 2020's BLM protests.
Gardner blamed racism and politics for attacks against her, and ultimately resigned earlier this year.
Mosby had received an emailed death threat after indicting police in 2015 for the death of Freddie Gray. She was indicted last year on federal perjury charges and goes to trial in October.
Then there is New York AG Letitia James who, like Willis, has dealt with "racist, derogatory" attacks by Trump. As proof, Jackson links to a tweet in which Trump called James a "racist" and her investigation into his business affairs a "witch hunt."
Willis' case against the former president has been highly criticized by Republicans and conservatives; the Washington Examiner's Byron York calls Willis' indictment a "kitchen sink" — she's throwing everything she possibly can against Trump which "suggest[s] prosecutorial overreach and lack of judgment."
MORE: Northwestern U. scholars unanimous: Trump indictment is a good thing
MORE: U. Chicago report: 30 million Americans believe violence justified to keep Trump from presidency
IMAGE: Norfolk Academy/Twitter
Like The College Fix on Facebook / Follow us on Twitter