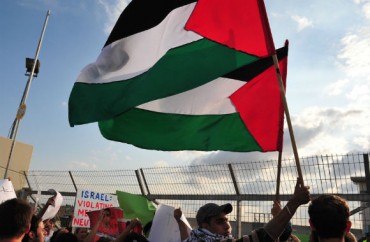 Because students already 'learn about resisting colonialism, racism, sexism, classism, homophobia and many other -isms' 
Students at American University held a walkout on Monday in support of Palestinians in Gaza and called for the school to divest from Israel.
The Eagle reports the campus chapter of Students for Justice in Palestine organized the event, and cited "the reported" 8,000 Palestinian civilian deaths "since the beginning of the current Israel-Hamas war."
Many participants wore keffiyehs or masks and were reluctant to give their names "out of fear for their personal safety."
The walkout also featured the launching of American's chapter of Jewish Voice for Peace, which wants to "end United States' support for Israel's oppression of Palestinians."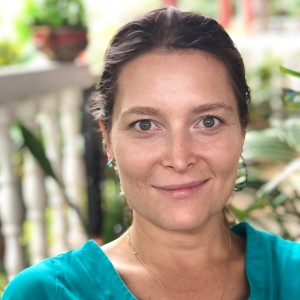 The School of International Service's Garrett Graddy-Lovelace (pictured), a faculty advisor for the AU Antiracist Research & Policy Center, said university officials "should show outward support for Arab, Muslim and specifically Palestinian students."
Graddy-Lovelace, who talks about farming's "racist roots" in one of her school's podcasts, added "[T]he fact that University leadership isn't acknowledging [the "outright genocide" of the Palestinians] is troubling, to say the least."
A member of the student group Students for Change expanded on that sentiment, advocating for professors to "connect the situation in Gaza to their coursework."
MORE: Cornell student charged with threatening to slaughter Jewish students
As American U. courses "often require students to 'learn and write about resisting colonialism, racism, sexism, classism, homophobia and many other '-isms' that permeate our world,'" the student said "I ask you, how can you be radical if you only support decolonization in your writing and not in your practice?"
On its Instagram page, Students for Change said it is "working against harmful power dynamics" with regards to AU's Muslim students, and stated the current situation is "not a war" and "not symmetrical" but "a [Palestinian] genocide."
After the initial speeches on the quad, members of SJP led attendees on a march through campus, ending outside the President's Office Building chanting, "Not another nickel, not another dime, no more money for Israel's crimes."

Once outside the building, SJP demanded for three actions from the University: stop erasure of Palestinian students and acknowledge the hurt that they're feeling, cancel ties with weapons manufacturers that send weapons to Israel and release a statement "condemning the genocide in Palestine." …

Protesters expressed disappointment in [AU President Sylvia] Burwell's Oct. 12 email to the AU community addressing Hamas' Oct. 7 attack on Israel.

"I felt like it was extremely disrespectful to say, 'the Jewish community and beyond,'" Amador Rivera said of the email. "Just not acknowledging the Palestinians that are being affected by this, just saying 'and beyond' is not enough. … I felt like that was straight-up disrespectful and dismissive."
One AU Jewish student said what is happening to the Palestinians is "horrible," but asked regarding protesters' "free Palestine from the river to the sea" chant: "Where do you want us to go?"
MORE: Jewish Penn staff received 'vile' 'disturbing' emails, but Penn says 'no credible threat'
IMAGES: ChameleonsEye/Shutterstock.com; American U.
Like The College Fix on Facebook / Follow us on Twitter