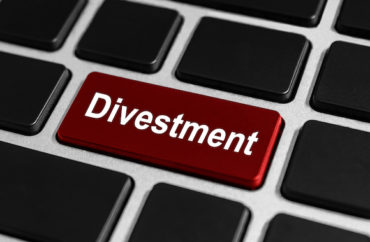 UPDATED
Student body called for divestment seven years ago
American University announced this week that it had finally sold off the last of its fossil fuel-related stock, at least in its public portfolio, completing a divestment plan that the student body called for nearly a decade ago.
The Eagle, the university's student newspaper, reports that the school's board of trustees over the past few months "sold off the final $12.9 million of fossil fuel exposure within the University's public endowment portfolio." The school had been directly divested from these concerns for several years.
With the sale of the stocks, the school becomes "one of [the] few U.S. universities to fully divest both direct and indirect fossil fuel holdings over the past decade," The Eagle says.
That's not exactly true: American University acknowledged in its own statement that it "may at some point have small and short-lived positions" in "Carbon 200 companies in its private investment portfolio," though it has none now. The College Fix has asked university media relations to explain why it's unable to preempt positions in these companies, and how it defines "small" and "short-lived."
Divestment campaigns are popular on campuses across the country, with environmentally minded students pushing administrators to strip the school's investment portfolio of any fossil fuel interests over concerns that fossil fuel consumption could lead to catastrophic global warming. In 2013, American University students voted on a campus referendum to urge the school to divest from fossil fuel; the measure passed by just under 80 percent.
The university's president, Sylvia Burwell, this week hailed the school's decision, which she said was part of the university's decade-long "campus-wide sustainability journey:"
Our actions, from reaching carbon neutrality to the Board's commitment to evolving our investments, will continue to serve as a model for sustainability, further demonstrating our leadership on the issue and how our community can make an impact in the global fight against climate change.
Student group Fossil Free AU suggested that the divestment development was not sufficient to address concerns related to climate change, saying in a statement that the board's decision was "only one step towards a just university. We hope that AU will continue this act by talking with students about reinvestment so we can all play a role in a just and equitable transition."
Read the article and university announcement.
CLARIFICATION: The university's announcement only applies to its "public endowment portfolio." The Fix has changed the headline and body to reflect the university's comment about its private portfolio, and also asked the university to explain the private portfolio.
MORE: Universities offer mixed responses to divestment campaigns
IMAGE: pichetw / Shutterstock.com
Like The College Fix on Facebook / Follow us on Twitter