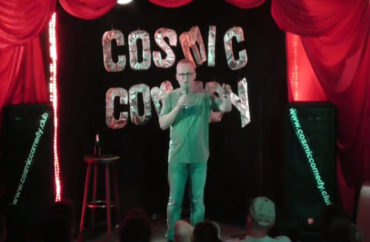 UPDATED
Abortion prevents Democrats and 'transgender bathrooms'
"We do not condone the insensitive posts from the individual's Twitter account."
That's all American University will say about one of its veteran journalism professors regarding "joke" tweets that were unearthed by Politico late Thursday.
Douglas Hecox is "Adjunct Professorial Lecturer" in the School of Communications at the private university in Washington, D.C. His longtime day job is spokesperson for the Federal Highway Administration, but his longtime side gig is stand-up comedy.
His personal Twitter account, "made private shortly before" Politico asked him about his tweets, featured several posts about mass shootings.
Regarding the Sandy Hook school shooting, he said "the optimist in me thinks it is a good lesson in subtraction." Another optimistic tweet about Sandy Hook said "Santa Claus may get to YOUR house a little sooner this Christmas!" He said "hundreds of moviegoers were spared heart disease from heavily buttered movie popcorn" because of the Aurora movie theater shooting.
He also tweeted that more Republicans and conservative states would support abortion "if they realized how many Democrats it prevents" and that "it would lead to fewer transgender bathrooms."
The College Fix asked the university for Hecox's status, whether it's reconsidering inviting him back to teach next semester, and what procedure it has for handling criticisms of professors for their extramural comments.
A spokesperson wrote in an email Friday afternoon that Hecox was still employed as an adjunct but the university doesn't comment on individual personnel matters. He said faculty conduct is "guided" by its faculty manual, "which underscores our commitment to Academic Freedom … as a foundational principle."
The academic freedom section of the manual also emphasizes that faculty have a "special position in the community," which "imposes special obligations" on their "utterances."
Hecox did not respond to an email to his AU account about whether the university had contacted him about his tweets or if he was still teaching his spring class.
MORE: Student comedians under attack by peers in U.K.
An undated FHA profile of Hecox, first saved in the Internet Archive in November 2016, says he was voted "Best Twitter Personality" two years in a row by the Washington City Paper. He's holding out a microphone in front of a brick wall, as in a stand-up comedy club.
According to his website, he has appeared on "Last Comic Standing," "Good Morning America" and The Weather Channel, among other programs. He's written for both Jay Leno and Stephen Colbert.
"As far as I know, I am the only professional comedian who has worked for Congress, the White House AND the Wyoming State Penitentiary," Hecox writes:
My standup material is mostly clean, which leads me to a lot of corporate gigs, conferences and workshops where profanity is not allowed. However, I also perform frequently for colleges and in comedy clubs where edgier material is preferred. The topics I discuss change periodically, but lately I am focused a lot on aging, relationships, work, technology and — obviously — news and politics.
His American University profile says he's currently teaching "Writing for Communication" and has taught that class and others since 2001. Hecox is currently writing a biography of John Osborne, "a 19th-century politician who wore shoes made of a dead train robber."
Hecox has been featured in the campus newspaper The Eagle several times, but not since Politico unearthed his old tweets. It covered his stand-up comedy tour in Germany last fall, Colorado performances for a second stand-up comedy album in 2014, and book on "agricultural humor" in 2005, among other stories.
The newspaper noted he performed on campus in 2003.
Hecox's tweets aren't "illegal or unethical" but he "might want to consider which profession he wants to pursue," Paul Light, professor of public service at New York University, told Politico: "You have to be thoughtful about how your life works if you're going to be a public officer."
The founder of Moms Demand Action for Gun Sense was more direct:
This person thought it was a good idea to mock gun violence victims on the worst day of their family members' lives. It isn't funny, it isn't appropriate, and in fact it's incredibly offensive and shouldn't be acceptable in our culture.
UPDATE: American University responded to a College Fix query after this article was published. Its response has been added.
MORE: Comedienne threats to quit because of college party with foreign hats
IMAGE: Doug Hecox/YouTube
Like The College Fix on Facebook / Follow us on Twitter