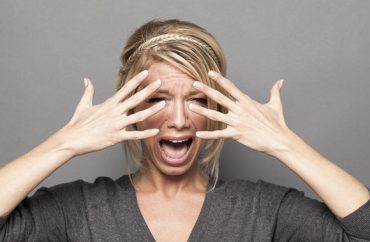 UPDATED
University is investigating as a code-of-conduct violation
Celeste Yim has been so grievously wounded by an off-campus costume party that she may have to stop doing comedy altogether.
The Toronto-based "first Asian female comedian ever" went on a tweetstorm Tuesday after seeing pictures on Facebook "showing smiling students wearing clothes associated with Asian, Arabic, Native American culture," Heat Street reports (Yim has since marked her Twitter account private).
She called the party thrown by Queen's University students "shockingly racist" and said the photos "made me feel sick to my stomach":
[T]he party pictures show how much work "need to occur before people of color feel safe" and "the progress that needs to happen for white violence to even be addressed".

"It feels insurmountable," Yim added. "It makes me want to sit down and never write essays or jokes or tweets or anything ever again."

MORE: Fire alarm pulled during anti-PC documentary screening 

The comedian continued expressing her frustration over cultural appropriation, saying the costumes "are indisputably and unequivocally offensive, tasteless, and should not be tolerated. Context and intentions have no bearing."
proud moment when @celestrogen is rocking that public instagram story ? pic.twitter.com/svKrLCYDEj

— Zainub Amir (@zainubamir) August 2, 2016
Heat Street has the photos, but here's one Yim tweet that's archived.

Celeste Yim on Twitter: "A very shockingly racist party thrown by Que…
archived 22 Nov 2016 20:30:27 UTC

Yim describes herself thus on her website:
I am also a student at the University of Toronto, a stand-up comedian, the head writer for my sketch troupe, The Follies, the incoming humour editor at The Strand, and I work for the community team at Instagram. I am tired.
MORE: 'Can We Take a Joke?' to be screened on college campuses
Here's a review of one her shows from The Strand:
The main show opened with a sketch featuring UC Follies's head co-writers, Celeste Yim and Kelly de Hoop, discovering a time machine and exploring the past. Unfortunately, due to their ethnicity and gender, they didn't get very far into history.
Celeste Yim, @celestrogen is now trending in #Torontohttps://t.co/mmP9AmjSG4 pic.twitter.com/83Y1QWpaCF

— Trendsmap Toronto (@TrendsToronto) November 22, 2016
Yim's tweets apparently got the university involved, The Toronto Star reports, with Principal Daniel Woolf saying the party was off-campus and "not sanctioned" by the administration:
"However, we are taking the matter very seriously, and continue to look into it. If we determine that this was a Queen's sponsored or sanctioned event, we will take appropriate action," Woolf said.
MORE: 'Zoolander 2' screening canceled because it mocks 'marginalized identities'
Woolf updated and escalated his statement on Wednesday:
As I stated yesterday, any event that degrades, mocks, or marginalizes a group or groups of people is completely unacceptable at Queen's.

That is why I have asked the provost to gather as much information as possible, and, based on what he learns, determine if this event falls within the scope of Queen's Student Code of Conduct. The Code of Conduct is applicable to students' off-campus conduct in certain circumstances.
Principal Daniel Woolf – @queensprincipal – has issued a statement regarding recent reports of a student party https://t.co/TmkYhVwkDG

— Queen's University (@queensu) November 22, 2016
Carolyn Thompson, vice president of university affairs, said the party had "undermine[d] Queen's ability to provide a welcoming and respectful campus environment" and interfered with "an open and productive dialogue about race and racism on campus."
The Star identified the costumes as depicting "Buddhist monks, Arab men, and Viet Cong guerrillas":
The theme of the flip cup tournament, an annual event called "Beerfest," was "countries" of the world.
The sponsor of a similar event last year, the Commerce Society's All Year Social committee, has disavowed any connection to the recent party.
Read the Heat Street and Star reports.
UPDATE: Queen's Principal Woolf updated his previously issued statement Wednesday, saying the off-campus party might violate the public university's code of conduct. The article has been amended accordingly.
MORE: What Lenny Bruce can teach easily offended college students
Like The College Fix on Facebook / Follow us on Twitter
IMAGE: STUDIO GRAND OUEST/Shutterstock