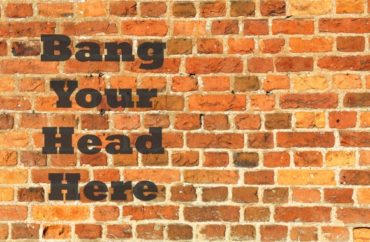 The editors of the Amherst College student paper are peeved the school didn't do enough this year "to reckon with the past" regarding Indigenous Peoples' Day and the Amherst Bicentennial.
A recent Amherst Student editorial notes that while the college took the right step in changing Columbus Day to Indigenous People's Day two years ago, this year "passed without any acknowledgment" of the holiday.
Adding to the shame, Amherst's celebration of its 200th anniversary "neglected any deeper recognition of the historical impact of the college" such as the "historical actions of its implicit namesake and mascot" (the latter until 2016) on the Indigenous community.
As Native and Indigenous Students Association Executive Officer Cole Richards said, Amherst is a "hyper-colonial institution based on the name of someone who is genocidal, and who gave [his] tribe, specifically, smallpox blankets."
According to the editors, the fact that a banner (below) hung by NISA was torn down at the end of Bicentennial events is a sign that Native students might not be safe on campus. This "seeming act of hate" (emphasis added) has yet to be noted by the college, let alone investigated.
ALERT: Check out our new Campus Cancel Culture Database!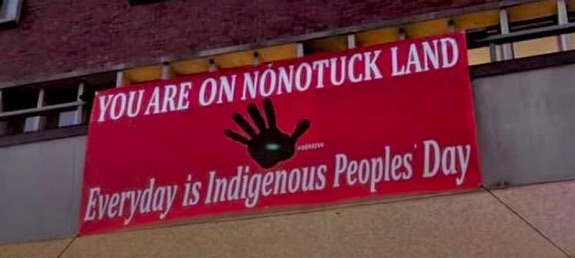 As an overall indemnity, the paper suggests Amherst give more money to the NISA and put more responsibility on the faculty:
The college should continue working to hire more Indigenous faculty and faculty with training in Native studies. Having Indigenous people in positions of authority on campus provides a bedrock for the community to rely on that lasts beyond the four-year career of a student activist — and Indigenous students who spoke to The Student reported that American Studies professors Lisa Brooks and Kiara M. Vigil, both of whom are Indigenous, played a crucial role in supporting them on campus.

Furthermore, faculty should in general be more proficient in Native studies. They should educate themselves on the implicit frameworks of colonialism that may already exist within their course structure and work instead to integrate awareness of Indigenous content and experiences into their academic material. This should not just be an obligation for the American Studies and Environmental Studies departments where Native studies content is currently concentrated.
As these pertain only to campus, the editors also note the college should do more for nearby Indigenous communities such as reparations and "engaging with the local 'LandBack' movement." According to one Indigenous organization, LandBack means "Dismantle, Defund, Return, Consent."
But for one activist (noted in the editors' link), even these don't go far enough. "Accepting the reality of LandBack […] will take the cessation of capitalism," Oglala Lakota Nation's MJ RedShirt said.
MORE: Canadian schools burn and destroy books to appease indigenous population
IMAGE: northallertonman / Shutterstock.com
Like The College Fix on Facebook / Follow us on Twitter