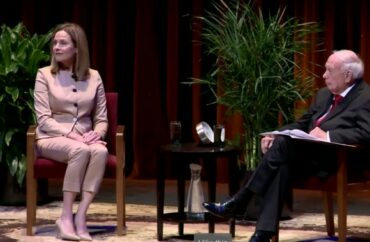 Police escorted out several students who interrupted the lecture
U. S. Supreme Court Justice Amy Coney Barrett spoke at a University of Minnesota campus event Monday amid opposition by hundreds of students.
About 200 people assembled outside the auditorium where university law Professor Robert Stein moderated Barrett's lecture about her constitutional philosophy, Minnesota Public Radio reported.
Students opposed Barrett's majority opinion in Dobbs v. Jackson, which overturned landmark abortion decision Roe v. Wade. 
Soon after the interview started, several pro-abortion protesters let down a banner and chanted on the balcony, according to the news outlet.
After several warnings, police led several students out of the hall, ending the interruption.
Close to 700 University of Minnesota students had signed a petition ordering the university to rescind Barrett's invitation, CBS Minnesota reported Monday.
"We…want our campus to demonstrate the commitment that they say they have to justice, equity, diversity, and inclusion by not giving such a large platform to somebody who has such bigoted ideas," Mira Altobell-Resendez of Students for a Democratic Society told the news outlet.
During her talk, Barrett spoke about the Supreme Court's decision to overrule older cases.
"The overruling precedent is not something to be done lightly," Barrett told the packed auditorium, as recorded by local news station KARE 11. "But the court's own guidelines that it has followed for centuries recognize that there are times when it is the court's duty to do so."
Barrett was the latest of several Supreme Court Justices law school Professor Stein has featured in his annual lecture series, according to Minnesota Law's website. Justice Sonia Sotomayor delivered the lecture in 2016, and Justice Ruth Bader Ginsberg spoke in 2014.
The University of Minnesota Students for a Democratic Society and Young Democratic Socialists of America plan had begun planning the protest in September or earlier, The College Fix reported at the time.
The Minnesota Daily reported on the opposition, quoting SDS member Gillian Rath that "We have to use our voice and do what we do best to make sure that not only the University, but Barrett knows that that kind of forces are not welcome here."
UMN officials "don't care about our thoughts and feelings and they really don't care about our rights," Rath told the outlet.
MORE: Local socialist politician demands UMinn cancel Justice Barrett event
IMAGE: YouTube/KARE 11
Like The College Fix on Facebook / Follow us on Twitter