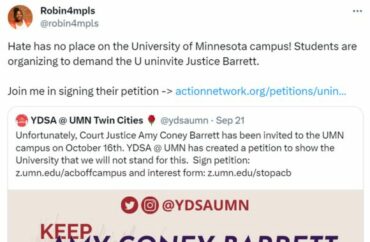 'Hate has no place on the University of Minnesota campus,' she says
The University of Minnesota should cancel its Oct. 16 event with Justice Amy Barrett, according to a local socialist politician.
"Hate has no place on the University of Minnesota campus!" Robin Wonsley wrote on X. "Students are organizing to demand the U uninvite Justice Barrett."
Wonsley shared a petition from the Young Democratic Socialists of America chapter at the Big Ten university. Wonsley, according to her X profile, is a "Black Independent Socialist" who is on the city council. "On her affidavit of candidacy Wonsley lists 'Democratic Socialist' as her party affiliation," Alpha News reported.
She represents the ward that includes the university and used to work at its women center. She holds a doctorate from the university in feminist studies/gender, women and sexuality studies, according to her LinkedIn.
"Amy Coney-Barrett is in practice and in ideology an opponent of the safety and wellbeing of the LGBTQIA+ Community, Women, Black and Indigenous peoples, and the working class," YDSA wrote in bold in its Action Network petition.
"Amy Coney-Barrett voted to repeal Roe v Wade, which was a decades long precedent that federally protected the right to an abortion as well as the right to bodily autonomy and other reproductive rights," the group stated. "This decision has led to states passing regressive laws against abortion that have led to women being arrested for seeking an abortion, including minors and victims of rape."
The citation does not include any information that backs up the assertion that women were "arrested for seeking an abortion." It is a National Public Radio article from the day the Supreme Court reversed Roe v. Wade, so it is not possible it could contain what states did subsequent to the ruling.
The petition also criticized other rulings and statements from Barrett and the Supreme Court.
"Amy Coney-Barrett is an existential threat to the LGBTQIA+ Community," the petition stated, again in all bold.
"She has questioned the federal governments protection of same-sex marriage, voted to overturn affirmative action, claims that title 9 protections do not apply to the transgender community, and has made public transphobic remarks," the petition stated. "It is clear that ACB has no interest in protecting people from the queer community."
A separate campus socialist group called Students for a Democratic Society also opposed the event, as previously reported by The College Fix.
A Supreme Court justice has given the lecture every year for the last decade.
MORE: Protesters shut down Robert George's 'truth seeking' speech
IMAGE: Robin4mpls/X
Like The College Fix on Facebook / Follow us on Twitter