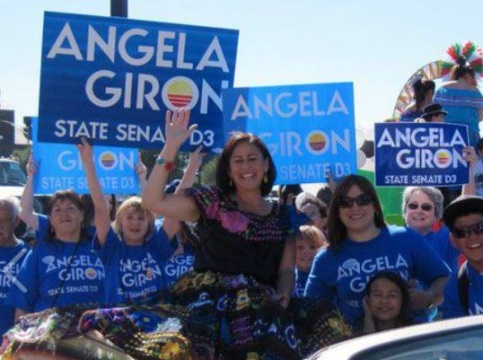 A Colorado state senator targeted in an upcoming recall vote for leading the charge to enact strict gun-control measures recently told a group of college students that she was for campus gun-control measures before she was against them.
State Sen. Angela Giron (D-Pueblo), when asked about her backing of proposed legislation that would have banned concealed weapons on college campuses, said she supported it in committee before she did not support it as it moved further through the legislative process.
"I was not a sponsor of that bill," Giron said at Colorado State University – Pueblo on Aug. 29. "After doing a little research, I felt comfortable (supporting it). I supported it in committee, but then some things came up that I didn't expect. I spoke to (Associated Student Government) representatives of the CSU system, and they didn't like it."
Giron said after speaking to student leaders she changed her mind about that particular bill, which was spiked in March and never voted on due to a lack of support.
"I went to the Senate president and said, 'I cannot vote for this bill,'" Giron said.
Giron, in her campus speech, implied she can take a stand against some gun-control measures when she deems it appropriate.
"I believe there is violence on campus, and I am willing to work with others to find alternative ways of dealing with the problem," Giron said.
Her talk, "Challenges and Opportunities: The Political Landscape in Colorado," took place in front of about 40 college students who are potential voters in the upcoming Sept. 10 recall.
She is one of two state senators, the other being John Morse (D-Colorado Springs), to be targeted in the recall, an effort that has gained national attention and is considered a litmus test for the country on Second Amendment issues.
The only voters eligible to weigh in during the recall are those who can legally vote in Morse's and Giron's districts, the later of which being where CSU Pueblo is located.
Giron was invited by a sociology professor to speak at the campus, and he told a reporter for The College Fix that he had invited a variety of politicians from both parties to speak – and no one but Giron responded to the request. Among other invitees was conservative activist George Rivera, Giron's challenger, according to the professor.
Students could earn extra credit for attending Giron's talk or take part in a separate extra credit opportunity the same day.
During her 60-plus minute speech, Giron did not raise the recall effort once, but did spend a large amount of time talking about internship opportunities for college students in her office. She also talked about her life before becoming a politician, what she has done to benefit Colorado, and how she stays connected to Pueblo.
Giron faces a recall for supporting several gun bills in the Colorado Senate last March. The gun rights group Basic Freedom Defense Fund is one of the main forces behind the recall, though other notable groups such as the National Rifle Association have also shown support for and funded the recall effort.
The gun laws which Giron helped pass included requirements for background checks for private gun sales and transfers, limits on firearm magazine capacity, background check fees, in person classes for concealed carry licenses, and a ban on domestic violence offenders owning firearms.
Fix contributor Katie England is a student at CSU-Pueblo.
IMAGE: Facebook screenshot
Click here to Like The College Fix on Facebook  /  Twitter: @CollegeFix