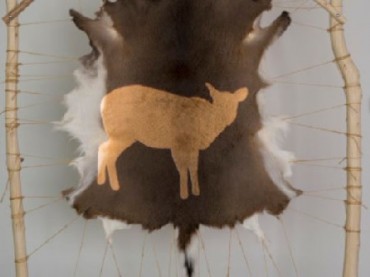 An art professor has fired back at an animal rights blogger who criticized her deer skin art exhibit at Syracuse University.
The critic had said the display of "slaughtered deer" was "disgusting" and called the scholar behind it, Tammy Renee Brackett, chair of the digital media and animation department at Alfred State College, a "troglodytic mouth-breather."
The three-month exhibit, "Deer Dear," ran from August through this week and featured deer hides in an effort to "explore humans' relationship with animals," a description of the exhibit on Syracuse University's website stated.
"The exhibition focuses on the White Tailed Deer, posing questions about population control, loss of habitat, and mortality," the description added. "Brackett uses deer hides as projection screens, or as surfaces to draw on. Two other hides illustrate the difference between a good shot and a bad shot. The good shot displays two holes high on the skin indicating a quick clean kill. The other skin, with multiple holes spread lower on the hide, describes a 'gut' shot that missed the animal's vital organs."
David Brensilver, an animal rights blogger for The Daily Maul, wrote a post titled "Slaughtered Deer on Display in Syracuse 'Art' Exhibit," in which he said the exhibit "depicts the bloodlust and brutality that accompany the monstrous notion that man is entitled to hold dominion over other species."
Brensilver also said Brackett is trying to "promote" and is "drawn to" the tactics of terrorists, insisting her work simply amounts to a "disgusting trophy collection."
"If the 'exhibit' raises any question, it is: What kind of rational and compassionate person would promote or be drawn to the work of terrorists?" he wrote.
In an interview with The College Fix, Brackett fired back at Brensilver, saying a larger deer population undoubtedly leads to problems for both the deer and humans.
"They are cute, but they are eating our shrubs down to nubs," Brackett said. "They are majestic, but they tend to slam into our cars."
She also said she has come to realize that hunters are people who "truly love these animals," and non-hunters like Brensilver simply don't have the same understanding.
She also added she is not trying to "promote, condone, or condemn hunting," and simply wants to advocate for starting a conversation about the human-animal relationship.
"[The Daily Maul blogger] is certainly extreme," she said. "I have been called many names. But to be called a 'terrorist?' That's probably the nastiest thing that has ever been leveled at me."
She stressed that as an artist, though, she does not want to censor anyone. Brensilver never even saw the exhibit in person, Brackett said.
"To be in the gallery with the hides and their particular presence is an important experience if one is to have such a strong opinion on the work," she added.
Of the seven hides in the exhibit, one was from a deer that she shot herself during hunting season last year. She isn't trying to convince others to change their minds, she said, but name calling is offensive.
"[Brensilver] never engaged in conversation or gave himself the chance to see that there were questions being posed by the work," she said.
View a slideshow of the exhibit.
College Fix reporter Andrew Desiderio is a student at The George Washington University.
Like The College Fix on Facebook / Follow us on Twitter
IMAGE: Tammy Renee Brackett/Syracuse University