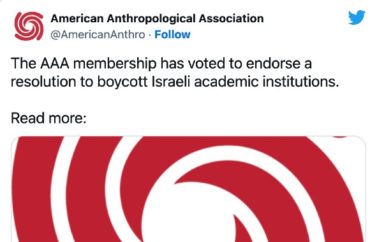 UPDATED
Ban will apply to academic events 'convened or co-sponsored by Israel'
The American Anthropological Association voted this morning to boycott Israeli academic institutions in a move inspired by the Palestinian Boycott, Divestment and Sanctions movement.
The AAA's membership voted 2,016–835 in support of the resolution, with 37 percent of eligible members voting.
The AAA membership has voted to endorse a resolution to boycott Israeli academic institutions.

Read more: https://t.co/N8Hyl607Gf

— American Anthropological Association (@AmericanAnthro) July 24, 2023
"This was indeed a contentious issue," AAA President Ramona Pérez said of the vote. "Our differences may have sparked fierce debate, but we have made a collective decision and it is now our duty to forge ahead, united in our commitment to advancing scholarly knowledge, finding solutions to human and social problems, and serving as a guardian of human rights."
The referendum on the resolution called on the American Anthropological Association, which has more than 10,000 members, "to boycott Israeli academic institutions until such time as these institutions end their complicity in violating Palestinian rights as stipulated in international law."
The resolution went before members from June 15 through July 14.
"The Israeli state operates an apartheid regime from the Jordan River to the Mediterranean Sea," according to the resolution's preamble, which continued, "Israeli academic institutions are complicit in the Israeli state's regime of oppression against Palestinians."
The boycott's organizing committee, Anthropologists for the Boycott of Israeli Academic Institutions, "works in support of justice and human rights in Israel/Palestine," according to its website.
"[T]his boycott pertains to Israeli academic institutions only and not to individual scholars," the proposed resolution stated. "Nor would the resolution bar AAA members from "determin[ing] whether and how they will apply the boycott in their own professional practice."
"This is an institutional boycott," resolution committee member Jessica Winegar told The College Fix. "Israeli institutions will always be able to unethically use anthropological frameworks and methods to further entrench the occupation, unless these institutions face consequences for doing so, such as those which would come with the boycott."
The resolution does not specify what boycott guidelines the association should adopt, instead charging the group "with implementing this boycott and determining how to do so with reference to the Association's own mission."
However, Winegar told The Fix that her group will recommend the AAA implement rules in consultation with the Palestinian BDS National Committee, which has promulgated model guidelines as part of its U.S. Campaign for the Academic and Cultural Boycott of Israel.
"Being the part of the Palestinian BDS National Committee (BNC) tasked with overseeing the academic and cultural boycott aspects of BDS," the Palestinian group "has advocated, since 2004, for a boycott of Israeli academic and cultural institutions," according to its website.
The proposed guidelines include a ban on "academic events…convened or co-sponsored by Israel, complicit Israeli institutions or their support and lobby groups in various countries" and a ban on study-abroad programs, which "are usually housed at Israeli universities and are part of the Israeli propaganda effort, designed to give international students a 'positive experience' of Israel, whitewashing its occupation and denial of Palestinian rights," the resolution website states.
Anthropologists Against Academic Boycotts opposed the resolution and academic boycotts generally, which it claims "runs counter to the fundamental principles of academic freedom, freedom of inquiry, and free speech."
In 2015, a contingent of AAA members briefly approved a boycott of Israeli institutions at the group's annual business meeting in a landslide 1,040–36 vote, The College Fix reported at the time.
However, when the measure was put before the entire membership, voters rejected it in a 2,423–2,384 vote.
"Four times as many members participated in an online vote from April 15 through the end of May [20116] as did those voting at last fall's [2015] meeting in Denver, and they split almost evenly: 2,423 against the boycott resolution and 2,384 in favor," The Fix reported.
The Fix reached out to Anthropologists Against Academic Boycotts in late June and again in July and has not received a response.
MORE: Conservative Israeli scholar at Princeton target of cancel culture campaign
IMAGE: American Anthropological Association/Twttier
Like The College Fix on Facebook / Follow us on Twitter