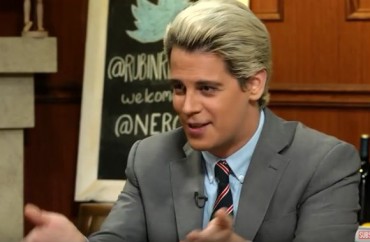 'People treat a few jokes and a bit of banter like I'm some kind of legitimately dangerous person'
Self-proclaimed fabulous supervillain and Twitter troll Milo Yiannopoulos is launching his U.S. college tour at Rutgers University next month.
The purpose of the "Dangerous Faggot Tour" is to "bring a bit of fun, interesting, and intellectually engaging speech to universities," Yiannopoulos, the technology editor for Breitbart.com and a gay man, said in an email to The College Fix.
Yiannopoulos is a fiery critic of feminism who has risen to fame in the GamerGate movement. He's so controversial that the University of Manchester, his alma mater, canceled his debate with an equally ardent feminist because both were considered too offensive for student ears.
The Rutgers chapter of Young Americans for Liberty is organizing the event. Aviv Khavich, one of organizers, told The Fix he's prepared for the typical backlash that follows Yiannopoulos.
"We won't be surprised to see protesters, but we're also expecting many students that will want to hear this fresh voice of reason," Khavich said.
The gay cultural libertarian firebrand wants his tour to counter the political correctness that has swept academia.
"Colleges used to be where new and dangerous ideas came to fight it out in the arena of ideas – now they're about safe spaces, trigger warnings, and lectures about rape pre-crime to boys who've done nothing wrong," Yiannopoulos told The Fix.
"The reason we call it the Dangerous Faggot Tour is that people treat a few jokes and a bit of banter like I'm some kind of legitimately dangerous person – safe space rules and security guards … So finally I'm like 'I really must be a Dangerous Faggot,'" Yiannopolous said.
His critics seem to think so: The feminist comedienne Kate Smurthwaite seemed to call for his prosecution at a televised debate this month.
According to his tour page, Yiannopoulos has been "banned" from speaking at Dulwich College and John Hampden Grammar School, both in the U.K., and his dates "canceled" at Canada's University of Guelph, U.K.'s Winchester College and Ohio State University.
Yiannopoulos didn't explain the circumstances of those aborted tour stops to The Fix. His tour page only links to his letter to Dulwich, in which he claims the college said his planned talk would violate its "spirit of tolerance."
From my email to Dulwich College. It won't make any difference, of course. pic.twitter.com/UlVaWWzpwD

— Milo Yiannopoulos ✘ (@Nero) November 30, 2015
Despite having received bomb threats before, Yiannopoulos said he's not scared to keep speaking in diverse locales. He's starting the U.S. leg in New Jersey in part because of the state's reputation for "frank talk" of the kind he practices for a living.
The tour itself could be seen as a response to repeated attempts to shut down his message.
Earlier this month Twitter "unverified" Yiannopoulos's account for unspecified "recent violations" of its rules, making it harder to protect his personal brand against fakes. That action is similar to the U.S. Patent and Trademark Office's revocation of the Washington Redskins' trademark for being "disparaging."
So now we know: you can't report facts about a public figure on this platform any more. pic.twitter.com/ZZ9gZnH0TU

— Milo Yiannopoulos ✘ (@Nero) January 20, 2016
Yiannopoulos said he's popular because he says "things that people want to say but do not, and get away with it. Now these are not all things that ought to be said, but hearing them said, debated, and aired… there's a cathartic effect from it.
"People love me because I give voice to the common man's frustrations, but they hate me for the exact same reason," Yiannopoulos continued. His critics "still have to read/listen to me because I'm so often right and/or the only person covering the topic."
Yiannopoulos said he can motivate otherwise apathetic Internet users because "I bring hard data" to debates: "Studies, news reports, whatever we need to find out."
For Yiannopoulos, his factual accuracy paired with his comedic personality provokes his audience. "There are people who read me who disagree with me for the laughs, and people who read the arguments I'd like to make if they weren't funny. Comedy and research are the best tolls [sic] in the Cultural Libertarian toolbox."
Yiannopoulos said his goal isn't necessarily to get people to agree or even to listen to him, but for people to talk a moment to think about speech.
"What is speech, how important it is, and how often even the really, oily, dirty, filthy, taboo speech often has value that cannot be measured by the hall monitors and nannies of the safe spaces and happy places types," he said. "If you think about speech, and have a laugh, I'll consider it mission accomplished."
The author is a member of the Rutgers University chapter of Young Americans for Liberty.
Like The College Fix on Facebook / Follow us on Twitter
IMAGE: Rubin Report/YouTube