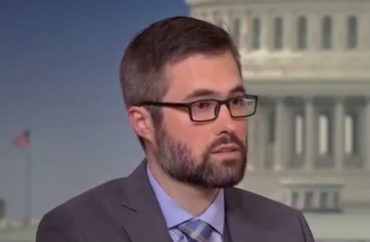 It's racist to imply black people aren't destroying things?
Historian Mark Bray has called violence "vital" to the antifascist cause, the subject of a "handbook" he authored. If he's not a full-throated fan of such violence, Bray is definitely an apologist for it.
Back in the spotlight after Antifa usurped the protests over George Lloyd's death at the hands of Minneapolis police, the former Dartmouth lecturer – now back at Rutgers, where he got his doctorate – seeks to redeem the property destruction (and more) caused by his compatriots.
In an op-ed for The Washington Post Monday, Bray claims "many Americans" attacked police cars and smashed storefronts because they were angry about Lloyd's death, not because they wanted an excuse to smash, loot and set fire to things.
He describes such destruction as "'violent' protest tactics," using scare quotes to suggest they aren't really violent. While denying that Antifa is driving the protests, Bray curiously admits the amorphous movement specializes in "militant protest," which he apparently distinguishes from "violent" protest.
Antifa protesters are simply practicing "social revolutionary self-defense" against police and "the targeted destruction of police and capitalist property" (like black-owned small businesses), he says. As for anything that he might consider objectionable, Bray allows that "some" of these protesters are participating in "a variety of forms of resistance during this dramatic rebellion."
MORE: Dartmouth faculty denounce president for denouncing Bray
President Trump can't designate Antifa as a terrorist organization, as the president tweeted, because the movement doesn't have "an overarching organization with a chain of command" and instead relies on "loosely knit networks and informal relationships of trust and solidarity," Bray writes.
Without providing evidence or a source, the historian claims Antifa "have never killed anyone" in the U.S. They emanate from "the broader tradition of collective self-defense against white supremacy and imperialism" represented by Malcolm X and even Harriet Tubman, Bray says.
He acknowledges what is evident from encountering a typical Antifa protest – it is "perceived by many to be predominantly white" – then tries to explain away that observation as racist: It implies that "black people couldn't organize on this deep and wide of a scale."
It's not clear whether Bray is trying to implicate black people at large in the widespread destruction of property and physical violence against not only police but small business owners and journalists, in a bid to remove the perception of Antifa as a largely white excuse to burn down the world.
"Even if you disagree with property destruction," Bray concludes his muddled essay, "it's easy to see the chain of events between Floyd's death and burning police cars."
MORE: Bray gives proceeds of his handbook to Antifa
IMAGE: Meet the Press
Like The College Fix on Facebook / Follow us on Twitter