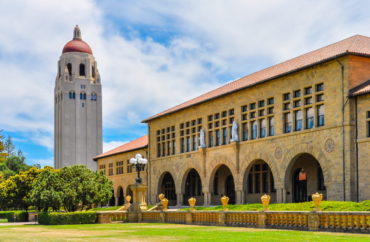 'The Stanford University Department of Public Safety is investigating the matter and believes the incident could be a crime' 
Antisemitic drawings were found on the door of a Jewish Stanford undergrad on Friday, the latest in a spate of reported actions targeting Jewish people at the university in recent weeks.
The recently discovered drawing depicted a figure resembling Adolf Hitler next to multiple swastikas, a photo posted by The Stanford Daily shows.
Rabbi Jessica Kirshner and the staff of Jewish student organization Hillel sent out an email informing the student body of the incident, The Stanford Daily reported Sunday.
The email stated the drawing was believed to have been left on the student's whiteboard on his dorm door sometime between Thursday night and Friday morning. The Jewish Student Association, the Board of the Jewish Law Students Association and the Jewish Business Association cosigned the email.
This is the third documented report of antisemitic acts in two weeks, and the fourth this quarter, according to the Stanford Protected Identity Harm Reporting website.
Two additional recent reports of documented antisemitic vandalism were defaced bathrooms in Stanford's Main Quad, the PIHR website reported.
"On February 28, 2023, a student found hateful language and symbols scratched into a metal panel on the bathroom wall in a men's bathroom…in the form of multiple Nazi swastikas, the n-word, and the letters 'KKK,'" according to the report.
"On March 3, a Nazi swastika with 'KKK' surrounding it was carved into the wall of a men's handicapped bathroom stall," it reported.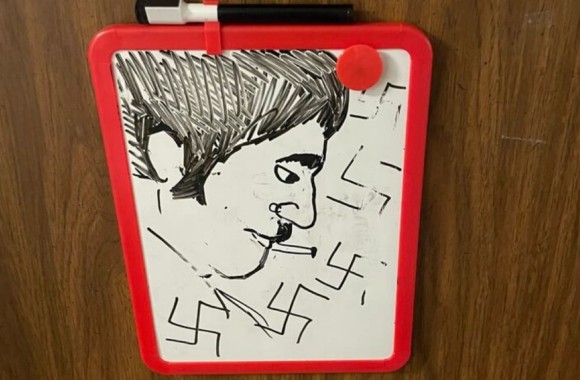 As for Friday's incident, the student who came home to the antisemitic message stated that they filed a Protected Identity Harm Report following the incident, according to the Stanford Daily.
"The Stanford University Department of Public Safety is investigating the matter and believes the incident could be a crime given that a resident of the room identifies as Jewish and the location of the Nazi swastikas may have been selected to intimidate the occupant," according to an email sent to students on Saturday by Susie Brubaker-Cole, vice provost for student affairs.
"This incident unfortunately is one of several antisemitic incidents that have occurred this academic year," Cole continued in the email, cosigned by three other top administrators.
"We wish to be clear: Stanford wholeheartedly rejects antisemitism, racism, hatred, and associated symbols, which are reprehensible and will not be tolerated," it stated.
Earlier in the quarter, a student filed a protected identity harm report after seeing a circulated Snapchat screenshot of a student reading "Mein Kampf," Hitler's manifesto, according to The Stanford Daily. 
Even more, last September a mezuzah on the apartment door frame of two Jewish graduate students living in a dorm was removed on the last day of Rosh Hashanah, PIHR reported.
MORE: Prof fired after speaking out against antisemitism, sexual misconduct wins $1M settlement
IMAGE: Jejim / Shutterstock; Inside, The Stanford Daily
Like The College Fix on Facebook / Follow us on Twitter