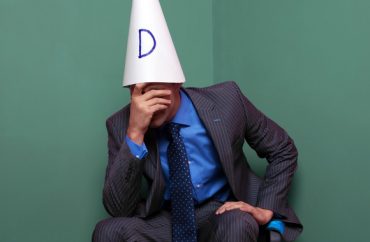 Drafting error?
Arizona already banned "free speech zones," those slices of public college campuses where students are authorized to exercise their First Amendment rights, two years ago.
It was only the third state at the time to recognize that free speech is protected in all public areas of an educational institution, according to the Foundation for Individual Rights in Education.
Now the state is on the verge of making a fool of itself by passing a law that directly contradicts its ban on free speech zones.
FIRE's legislative counsel, Tyler Coward, tweeted this afternoon that a bill that lets colleges revoke First Amendment rights from their students is heading to Gov. Doug Ducey after clearing the state senate.
In a post earlier Thursday, Coward theorized that the provision was a "drafting error in conference committee," but it's a pretty big effing accident.
HB 2563 is supposed to broadly protect free speech rights against incursions by administrators and activists, though FIRE had several quibbles with the pre-conference version. The post-conference version still has "problematic language" as well as a "new, fatal error," Coward writes.
It explicitly authorizes public colleges to "restrict a student's right to speak, including verbal speech, holding a sign or distributing fliers or other materials, in a public forum." The language was inexplicably changed from "shall not" to "may" restrict.
This is a roadmap for random, arbitrary, retaliatory and self-interested censorship of students who are doing little more than advocating for capitalism, peacefully protesting an alleged university takeover of their organization or even inviting passers-by to write on their beach ball. In other words, a godsend for administrators.
Problematic Arizona campus free speech bill—which states that a "university or community college may restrict a student's right to speak"—would allow colleges to restrict students' rights and must not become law. https://t.co/13GcMqwJ8c pic.twitter.com/kMeg6j8gFb

— FIRE (@TheFIREorg) April 19, 2018
Gov. Ducey has been tweeting on education-related topics today but appears ignorant he could sign a bill that would embarrass the state and cast yet more doubt on the competence of lawmakers.
His own record on student speech is mixed: Ducey vetoed a bill that overwhelmingly passed the Republican-controlled Legislature a year ago that would protect student journalists and their advisers from censorship and retaliation. He basically doesn't trust high school students to use their constitutional rights.
Let's see if his advisers can at least carefully read the text of this newly approved legislation.
Big thanks to @senstevesmith, President Yarbrough and the members of the Commerce & Public Safety committee for your work to help ensure safety in our schools! Now on to the full Senate. #SafeAZSchools

— Doug Ducey (@dougducey) April 19, 2018
Read HB 2563 and FIRE's post.
MORE: Ducey vetoes bill that protects student journalists from censorship
IMAGE: RTimages/Shutterstock
Like The College Fix on Facebook / Follow us on Twitter