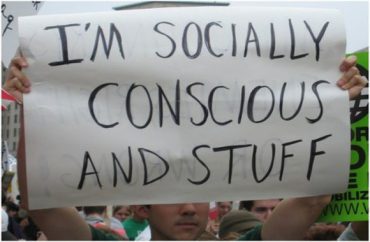 A 24-year-old student at Arizona State University has been busy staging a one-man protest against Donald Trump.
Johnny Martin, who studies Religion, Public Life & Conflict, frequently stands solo on the campus's Hayden Lawn in between classes to protest the president and "against racism and intolerance."
"I'm angry," Martin told The Tab. "Less than a week ago, we had a terrorist attack in Charlottesville and we are now watching Nazis take to the streets of America. And, I hold Donald Trump directly responsible for empowering White Supremacist [sic]."
Martin added he holds the Republican Party responsible for the death of Heather Heyer during the white supremacist chaos in Charlottesville two weeks ago, noting it has been "attempting to pass legislature [sic] to 'protect people who run over protestors with their cars.'"
He also says white people who continue to support President Trump and his agenda are racist and help to maintain white supremacy.
"I've directly seen the impact of racism and hate. I think we–and I mean especially white people–need to actively reject that because White Silence equals violence," he said. "When white people don't speak up about stuff that is happening they are complicit with white supremacy."

Many ASU students have shown their support by providing him with water and even engaging in positive conversation with him while he is protesting.

ASU football player, Rene, took to Twitter to show his support by sharing a video with the caption "My man here at ASU". When asked about his reaction to the one man protest the Rene senior told The Tab, "I think there should be more of it, I understand why people aren't because of class, school, and work. I love the first amendment and I'm happy to see him expressing it."

Martin is currently running for office in Mesa for Arizona's house of representatives for district 25. He also plans to continue his protest between classes and organization meetings.

Martin believes "that people who are Republican or conservative are not inherently racist or complicit but they are if they continue to support this dangerous agenda."
Martin describes himself on his Facebook profile as "Interfaith + LGBTQ ally" and "American Muslim!" Earlier today he took to the social media platform to rip the president for his Friday pardon of Sheriff Joe Arpaio, as well as to engage in a bit of equivocation on whether Trump voters are or are not racist:
"I stand by my belief that every person who voted for Donald Trump contributed to this surge in racism and white supremacy across the United States," he writes. But a bit later he says "However, I simply refuse to make sweeping statements about all Trump voters being 'inherently racist' because I don't see that leading to a constructive dialogue."
MORE: Another teacher, another ridiculous anti-Trump rant in front of a captive audience
MORE: George Washington University dean: Donald Trump is a 'Nazi-in-chief'
Like The College Fix on Facebook / Follow us on Twitter
IMAGE: Sam Felder/Flickr