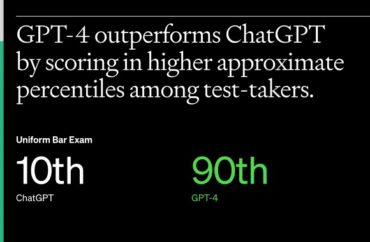 Elon Musk, among others, called for a six-month pause on all AI system advances more powerful than ChatGPT-4
Top scientists and tech experts are calling on the federal government to restrain ChatGPT following the development of its new version, ChatGPT-4, which achieves top scores on common standardized tests.
ChatGPT-4, the new model released in March, can score in the 93rd percentile in SAT reading, 89th percentile in SAT math, and can achieve the highest score on multiple AP subject exams, according to OpenAI's website.
The software also passed a simulated bar exam with a score around the top 10 percent of test takers and "is more reliable, creative, and able to handle much more nuanced instructions than GPT-3.5," according to the site.
Elected officials as well as tech leaders have taken note.
"President Joe Biden's administration wants stronger measures to test the safety of artificial intelligence tools such as ChatGPT before they are publicly released, though it hasn't decided if the government will have a role in doing the vetting," U.S. News reported last month.
The U.S. Commerce Department "will spend the next 60 days fielding opinions on the possibility of AI audits, risk assessments and other measures that could ease consumer concerns about these new systems," it stated April 11, according to the news outlet.
In response to the release of GPT-4, the tech ethics group Center for Artificial Intelligence and Digital Policy filed a March 30 complaint to the U.S. Federal Trade Commission, calling on the agency to "to open an investigation into OpenAI, enjoin further commercial releases of GPT-4, and ensure the establishment of necessary guardrails to protect consumers, businesses, and the commercial marketplace."
Chat GPT-4 "is biased, deceptive, and a risk to privacy and public safety," according to the complaint.
Elon Musk, Apple co-founder Steve Wozniak, and other scientists and technology leaders also signed an open letter March 22  to push for a halt to AI system advances more powerful than GPT-4 for at least six months in order to better understand the risks.
"AI systems with human-competitive intelligence can pose profound risks to society and humanity," the letter stated. "This pause should be public and verifiable, and include all key actors. If such a pause cannot be enacted quickly, governments should step in and institute a moratorium."
'The genie's out of the bottle and we can't put it back,' professor told The College Fix
"Asking about the implications of ChatGPT and similar A.I. technology is like asking someone in 1993 about the implications of the Internet." Furman University philosophy Professor Darren Hick told The College Fix in an email. "I couldn't pretend to know what roles A.I. will play in our lives in, say, 30 years, but it's going to be big. The genie's out of the bottle and we can't put it back."
In 2022, Hick (pictured) caught a college student using ChatGPT-3 on a written assignment, according to The New York Post.
"There's particular odd wording used that was not wrong, just peculiar," Hick told The Post, describing why he flagged the paper. "If you were teaching somebody how to write an essay, this is how you tell them to write it before they figure out their own style."
However, "despite having a background in the ethics of copyright law, Hick said proving that the paper was concocted by ChatGPT was nearly impossible," according to The Post.
Hick only confirmed the offending student had used the software by confronting him directly, The Post stated. The student failed the course.
"I would say [ChatGPT] writes like a very smart 12th-grader," Hick told The Post.
Morten Christiansen, a professor of psychology at Cornell who has weighed in on the software, also spoke with The Fix on its dangers.
"It's possible that ChatGPT (or its successors) with more training and human feedback will be less likely to hallucinate, and if so, they may perform on a par with people," Christiansen said.
A "hallucination" in AI technology refers to semantic or syntactic responses that seem reasonable, but are actually inaccurate, nonsensical, or incorrect.
Robert Seamans, associate professor and director of the center of the future of management at NYU, told The Fix in an email that while he does not deem it necessary to halt the development of AI systems like ChatGPT, he would like to see conversations on institutions or systems we might "have in place to help guard against any downside from AI."
Seamans also said more conversations should be had on whether AI benchmarks focus on the right things, and that there may be too much focus on questions like, "can AI do this task better than a human, or not?"
While ChatGPT has been banned in some schools, others have embraced the shift. One professor at the University of Pennsylvania's Wharton School requires students to utilize AI in his courses on entrepreneurship and innovation, NPR reported.
A 2023 survey by Impact Research and commissioned by The Walton Family Foundation found that 40 percent of teachers use ChatGPT for their job weekly, and 10 percent of teachers use the service daily.
The survey also found that of those who have used ChatGPT, 88 percent of teachers and 79 percent of students said it had a positive impact.
The majority of teachers and students agreed with the statement, "ChatGPT is just another example of why we can't keep doing things the old way for schools in the modern world."
MORE: ChatGPT makes up stories to accuse professors of sexual misconduct
IMAGE: OpenAI
Like The College Fix on Facebook / Follow us on Twitter