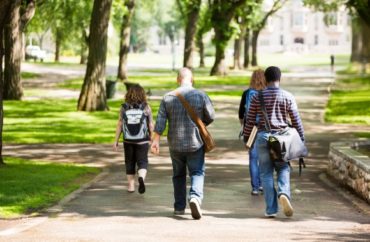 Right after Harvard University announced instruction would remain online for the 2020-21 academic year due to coronavirus, ICE announced a new policy that requires international students on visas to either attend in-person classes or leave the United States.
Immigration and Customs Enforcement's new policy is that "international students in the U.S. whose schools switch to online classes for the fall semester will have to leave the country or risk violating their visa status," The Hill reports.
"Under the new rule, foreign nationals enrolled in U.S. educational institutions will have to leave the country unless part of their course load this fall is taken in-person."
Meanwhile, President Donald Trump on Tuesday held a White House roundtable on education in which he heard from a variety of school officials, mainly K-12, who pushed for schools to reopen and said they're ready for it, too.
"In making its case to reopen schools, the Trump administration has argued that keeping students at home carries greater risks than any tied to the coronavirus. Health officials say students need to be in school to continue their educational development and to access meal programs and services for mental and behavioral health," the Associated Press reports.
Robert Redfield, head of the CDC, added that it is "clear that the greater risk to our society is to have these schools close. The CDC encourages all schools to do what they need to reopen, and to have plans that anticipate that COVID-19 cases will in fact occur."
Education Secretary Betsy DeVos is assailing plans by some local districts to offer in-person instruction only a few days a week. She says schools must be "fully operational" even amid the pandemic and anything less fails students and taxpayers. https://t.co/U9KSDdVypM

— The Associated Press (@AP) July 7, 2020
Regarding Harvard's decision, Trump said: "I see what Harvard announced that they're closing for the season or for the year. I think it's ridiculous. I think it's an easy way out. I think they ought to be ashamed of themselves."
As for the ICE decision, it's sent universities scrambling, as international student tuition is a cash cow for them. While many universities are offering in-person classes or a hybrid option this fall, both of which would likely keep international students in the clear of ICE's new policy, there is concern and activism as administrators balk.
Forbes reports that top universities have vowed to protect international students from ICE's new policy: "Schools including Harvard, Columbia, Brown, Stanford, NYU and the University of Pennsylvania sought to reassure international students following the announcement, with Harvard and Upenn both saying they would work with other institutions to chart a path forward to ensure students 'can continue their studies without fear of being forced to leave the country mid-way through the year,' in the words of Harvard President Lawrence S. Bacow."
Various campus leaders are also calling on ICE to rescind or amend the policy, including UW-Madison Chancellor Rebecca Blank, who suggested the policy is xenophobic.
"Since the start of the pandemic, international students have faced numerous difficulties and hardships, including travel restrictions, closed consulates, required and recommended quarantine periods, not to mention acts of xenophobia, hate and bias," she stated. "These students are valued members of our community, and we will continue to support and advocate for them."
The new ICE policy also prompted outrage on Twitter among activists under the hashtag #Studentban.
MORE: Harvard immigration activists furious student newspaper asked ICE for comment
IMAGE: Tyler Olson / Shutterstock
Like The College Fix on Facebook / Follow us on Twitter