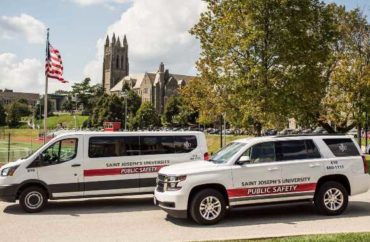 Crimes near campus have included shootings, homicides and home invasions
Violent crime is up near St. Joseph's University and other universities in Philadelphia, and students have called for more significant security forces on campus.
"The number of aggravated assaults, robberies with a firearm, and thefts has increased near [St. Joseph's] main campus, and at a higher rate than the city as a whole, according to an analysis of Philadelphia Police Department data," The Philadelphia Inquirer reported Jan. 19.
Other universities in the city have also grappled with "record levels of gun violence, including more than 500 homicides in both 2021 and 2022," according to The Inquirer. 
Violent crime near colleges in Philadelphia has included shootings, home invasions, aggravated assaults, robberies and thefts, many close to the college campus, according to the paper.
Campus security at Temple, Drexel, and the University of Pennsylvania carry guns, but St. Joe's safety officers do not, the Inquirer reported. Ross Radish, interim vice president of student life, told the paper the school "is not considering converting a police force."
"The University's security officers are not police officers and they do not carry firearms; any criminal investigations are conducted by the Philadelphia Police Department or the Lower Merion Police Department which are responsible for coverage at Saint Joseph's University," according to St. Joe's Office of Public Safety & Security.
'I want them to create a safer place for students,' crime victim said
St. Joseph's senior David Knapp, a student who was assaulted just outside campus gates on his way to church, said St. Joe's should invest in more public safety, according to The Inquirer.
Tommy McBride, another student at the Jesuit university, was shot in the knee in a violent carjacking near his home just blocks from campus. He also called for a greater security presence on campus, according to the paper.
"Because I love St. Joe's so much, I want them to create a safer place for students," McBride told the paper.
"It just worries me with the increasing crime around campus, that next time, the bullet won't be in someone's leg," he said.
MORE: Student sues Spring Hill College alleging inadequate security led to sexual assault
IMAGE: St. Joseph's University
Like The College Fix on Facebook / Follow us on Twitter